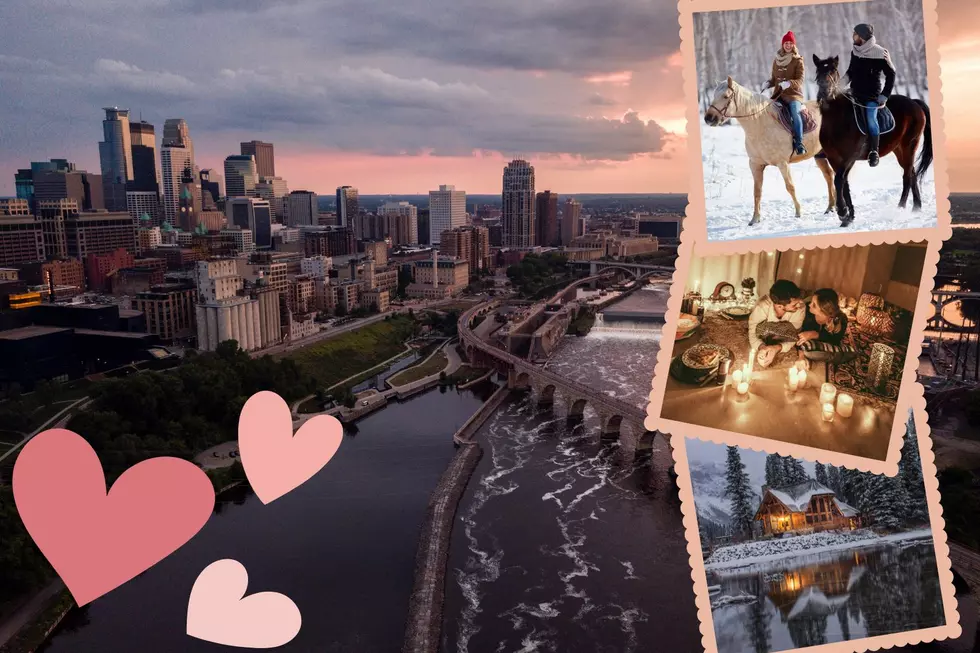 15+ Unique And Memorable Valentines Date Ideas In Minnesota
Original photo by Nicole Geri on Unsplash
We are one week away from Valentine's Day and I could not be happier! While I do not have a romantic partner myself, I am still looking for things I can do for Galentine's Day or something for myself. So whether you want to do something with your romantic partner, a friend or two, or just yourself, here are some ideas you can do at home or around Minnesota
Go to a Restaurant for Dinner
I had to start with a classic. If there is something people love besides their loved ones, it's food. So go out to your favorite restaurant and have a nice dinner. Or go to a restaurant both of you have never been to, or even take your favorite fast-food home and have a fancy dinner at home!
Have a Fancy and Sweet Treat for You or Your Date
Whether it's a cake, cookies, chocolate, or ice cream, you and your partner deserve some sweets on this sweet-filled day. Wanna make it a fun activity? Bake a cake together, decorate it, and then of course eat it. Make it more interesting by having a competition. Or even buy everything you can cover in chocolate and just have fun!
Schedule a Tasting at a Winery or Brewery
Gott a love wine tastings em I right? But what makes it so special is getting the chance to sip on a nice drink while spending time with your loved one(s). Have a flight and see if you have a new favorite. Order the craziest drinks for each other. Or if you want to have fun at home find some valentines day themed cocktails to make for your significant other.
Cozy Up for the Weekend at a Hotel or Resort
Valentine's Day is the perfect opportunity for a staycation at a Minnesota hotel or resort. Toast to an anniversary, spoil that special someone or just celebrate the simple pleasures of being together. Find some cute cabin or barn Airbnb or a cute classic bnb. Try Bemidji or Lutsen.
Go Horseback Riding Together
Escape from the ordinary with romantic horseback riding! Find a ranch or place that lets you take a stroll on horses through the woods of Minnesota. A Perfect way to enjoy each other's company, a new activity, and the "warm" winter weather we have right now.
Makes Crafts Together
Whether it's a crafty gift for your partner or just a fun activity for you guys to do together, crafty is a great way to spend time with someone. With this there is so many options, you could make a whole day out of it. From box craft activities to DIYs, there are so many things! My favorites for dates would be your classic Paint n Sip, painting picture frames (with pics of you guys), and painting pottery or vases (either that you bought at goodwill or at places like color me mine).
Or try the newest trend of painting candles. You can purchase long candle sticks and have fun painting and decorating them. Then after you can display or even light them for your fancy dinner or dessert.
Attend a Concert Together
Hey if you guys are concert lovers or your partner's favorite band or artist is here soon, go attend a concert! Have fun Dancing or just being in the moment and hearing your favorite music live with each other.
Try Something New
Is there something you have been wanting to do but haven't gotten around to it? Is there anything you and your partner haven't done that you want to check off your bucket list? Well now is the time! Honestly, the sky is the limit with this one. Never ice skated? Now you can. Never tried Chinese food? Now you can. Never played the ukulele? Now you can.
Go to a Bookstore
spend some time picking out a book for your partner to read. Make it a theme and find mystery novels for each other or romance novels. Or buy a book each of you likes and later take turns later reading each other your favorite (or cheesiest) passages.
Have a Theme Night at Home
Want to create a special night for your special someone, but don't necessarily want to go anywhere or spend too much? Well create that special night at home and create a themed night. Have a game night and gather all your games or find some online to play all night. Have a camping theme by making a fort in your living space and setting up lights to create stars on the ceiling. Have a movie theme night and have a marathon of your favorite movies (or even romantic movies or a series).
Attend a Cooking Class
Wanna have a nice dinner but also want to make a night out of it? Well then sign up for a cooking class date. If you can't find one near you or don't want to go out watch a cooking class online and try it together at home. Or just have fun and cook dinner by yourselves. For example, make homemade pizzas together (or even make it a competition).
Cooks of Crocus Hill does have vegetarian or gluten-free dinners to try, but they do require some work — guests head to the kitchen and prepare the three-course meal themselves, with help from the chef. Feb. 11-12; $125/person.
Have a Fun Date in an Igloo or At a Heated Patio
Wanna do something unique but still want a simple and classic date? Go to a place that lets you rent out an igloo. Try the Lock & Dam Eatery in Hastings which has four igloos available Tuesdays through Sundays for lunch and dinner. In Minnetonka, Duke's on 7 offers two-hour bookings for igloos. In addition, check out Next Chapter Winery in New Prague, and of course, Mineral Springs Brewery in Owatonna!
Or try a heated patio. Some in southern MN include Chapel Brewing in Dundas or the massive winter beer garden at Utepils Brewing in Minneapolis.
Go to a Rage Room
Are you and your partner (or your friends) not-so into the lovey-dovey aspect of Valentine's Day? Then check out a rage room where you can smash and beat different objects with different tools (safely of course).
Go to the Cupid's Revenge
For more not-so-lovey-dovey ideas go to Cupid's Revenge: A Valentine's Day-themed haunted house in Inver Grove Heights. (It's a great excuse to hold your partner's hand.) Feb. 10-11; $25/person.
Dating with Dogs Event
Specifically, for those of us who are single, there is a singles mixer for dog lovers at Forgotten Star Brewing in Fridley. No dog required for entry; proceeds benefit Ruff Start Rescue. Feb.14; $10 advance.
Valentines Date Activities in St. Paul
Click here for Valentine's events in St. Paul
Valentines Date Activities in Minneapolis
Click here for Valentine's events in Minneapolis
Some ideas were inspired by axios.com, exploreminnesota.com, minneapolis.org, and visitsaintpaul.com.
Top Ten States for the Most Scenic Walks in the U.S.
From Gambling.com, these are the best states for long, scenic walks in the entire United States. Colorado is tenth. And that's a travesty.