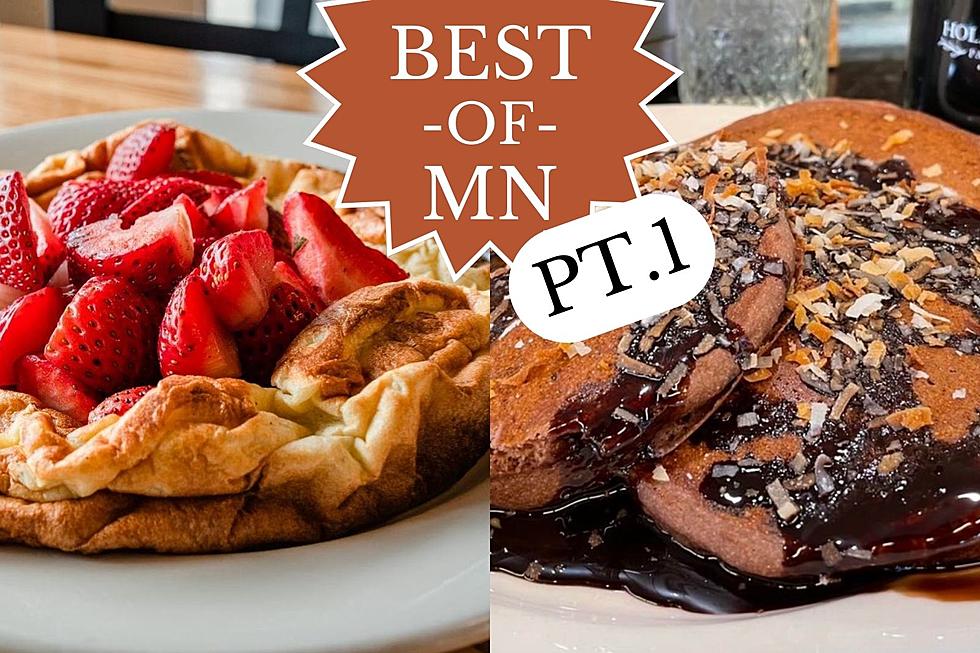 Best Places to Get Pancakes in Southern Minnesota Pt. 1
Photos from @hollandberrypannekoeken on Instagram
Happy Monday! Not only do we get to celebrate Carnival and President's Day this week, but it is also National Pancake week!
Even though there's an ongoing battle on whether waffles are better or pancakes, you cant deny that pancakes are truly a classic! I will say I am team pancake and so I am excited to share the best places in southern Minnesota to get pancakes.
Because I want to spend time sharing the best 10 places to get pancakes, I thought I would spread it out to cover the whole week and cover two a day. So here are the first two.
These are not necessarily in a particular order, but I am saving the best ones for later in the week so keep checking in!
Best 10 Places to Get Pancakes in Southern Minnesota: Pt.1 #'s 10-9
While Hollandberry Pannekoeken is not known for your traditional pancake, their Pannekoeken's are highly reviewed, plus they are a unique food (it's a win-win).
If you are wondering what a Pannekoeken is, Hollandberry explains it beautifully. Pannekoeken are oven baked Dutch pancakes. "They rise as they bake providing an airy, yet filling treat that can be served for breakfast, lunch, dinner, or dessert. There are many delicious options from which to choose. Topped with fresh fruits and sweet berries or others with savory meats and sauteed vegetables, there is a flavor combination for everyone," as described from their website.
Not only does Hollandberry serve Pannekoeken in many different options, but they also have lunch and dinner options, and of course American pancakes and delicious waffles, too!
Their breakfast menu includes delicious options including the Pannekoeken fan-favorite Original Apple (baked with cinnamon sugar glaze and sliced apples), Traditional Dutch Pannekoeken (a plain Pannekoeken served with a lemon wedge and powdered sugar), and of course Annabelle's Giant Dutch Waffle (Crispy golden on the outside, light and airy on the inside. Blueberries baked in, bananas and whipped cream on top.).
What I really love is you can also get a Pannekoeken and add your own two toppings from the following list: chocolate chips, pecans halves, almond slivers, cinnamon streusel, vanilla icing, 1 scoop ice cream, blueberries, raisins, cinnamon sugar, apple slices, bananas, cheese caramel, chocolate syrup, whipped cream, bacon, sausage, rum sauce, and Oreo chunks.
As someone who has dined here before, I can totally say this place is worth the drive and wait! Valley Diner is known for serving your favorite breakfast items from open to close. Like they say on their website, "sometimes we just need to have our favorite breakfast food - no matter what the time of day!"
Valley Diner, which is open every day from 7:00 a.m. – 3:00 p.m., just serves your basic breakfast food and of course burgers, sandwiches, salads, and even pasta. But they are known for their breakfast food, and you just can't go wrong with your classic home-cooked eggs, bacon, and pancakes. And 3 fluffy buttermilk pancakes for only $7.95 I mean you are golden!
They also have yummy French toast options including Peanut Butter & Jelly French Toast (French toast stuffed with peanut butter and jelly sprinkled with powdered sugar), and Raspberry Fritters French Toast (Raspberry fritter bread dipped in egg batter and topped with whipped cream).
I will say that if you are going on a weekend, you should definitely arrive early because their breakfast food is so good and since there is limited seating, the wait can be lengthy, so just plan ahead or call!
All information is credited to hollandberrypannekoeken.com and valley-diner.com.
Minnesota Goodwill Stores Will NOT Accept These 13 Items
While there is an appreciation for donating items, there are actually many things Goodwill will not accept, especially in Minnesota. So here is a list of all the things that Minnesota Goodwill's will not accept.