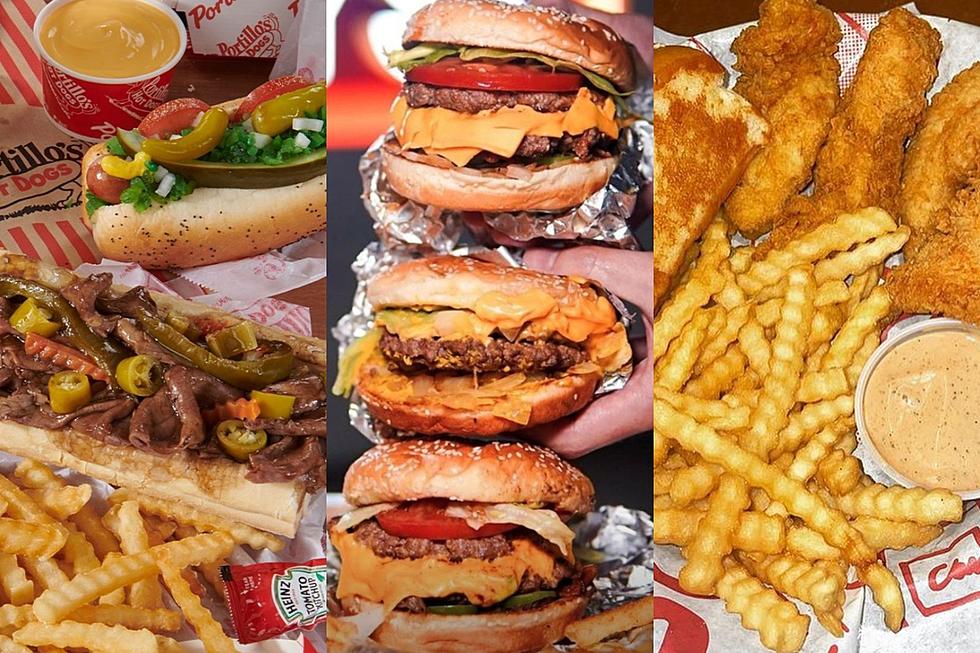 Have You Been To Minnesota's Most Popular Fast Food Places?
Photos from @fiveguys, @raisingcanes, and @portilloshotdogs on Instagram
You know when you are just tired from work or a long day and all you want is a classic burger and fries, fast food is your savior!
We all love fast food! So I thought I would bring you a list of the most popular fast food chains or restaurants in the Twin Cities brought to you by Google.
You know you can never go wrong with a Culver's Butter Burger or McDonald's fries, but what about other places? I know if I had to pick anywhere it would be Canes! And after looking through Google, a lot of people would agree, but there are other places too! Here are the Top 10 best fast-food places.
I do want to note that these were literally the first 10 that popped up when googling the most popular fast food chains in Minnesota, so it might not be fully accurate, but hey, Google knows a lot. I'm assuming this means the most googled and highest-reviewed locations, which does help.
My Burger (Minneapolis)
This place looks good! My Burger realizes that it is just your basic burger place, you know if something isn't broken, don't fix it! Their menu is simple (burgers, fries, milkshakes), but the food is more than just that, it's delicious!
World Street Kitchen (Minneapolis)
While I haven't tried this pace, they do sound familiar. Their 'about us' page states that "World Street Kitchen is the year-round neighborhood restaurant built from the popularity of their WSK food truck. Featuring flavors from across the globe – from Asia to the Caribbean to the Mediterranean and everything in between — the restaurant serves popular staples, specials, sweets, and cocktails in one friendly spot."
McDonald's
You know it, I'm loving it.
Five Guys
Okay, Five Guys is worth the hype! I say it's better than Shake Shack.
Sonic Drive-In (Savage, Bloomington, and St. Paul)
I mean I wouldn't say Sonic's food is to die for, but I mean it really brings you back with its drive in style.
Chick-Fil-A
Uncle Franky's (Minneapolis)
They brand their food as "top quality food from Chicago and homemade local sources." And after looking at their menu, this is every hot dog and burger fanatics' dream.
Raising Canes
Raise your hand if this is your favorite place because it is mine!!! Please try this place before you die, you will not regret it.
Taco Bell
Honorable mentions I saw that were not in the top 10 but you should try (also I can't believe Culver's wasn't in the top 10):
Culver's
Smashburger
Freddy's Frozen Custard and Steakburgers
Pot Belly
Okay, in my humble opinion, these are the best hot sandwiches ever! and the shakes man!
Dude, this is the place that puts a whole piece of cake into their milkshake! And of course, they have delicious hot dogs, burgers, and even pasta!
Find some time to get food from all of these places and indulge in one of our best guilty pleasures.
All information is credited to Google and the websites of the restaurants.