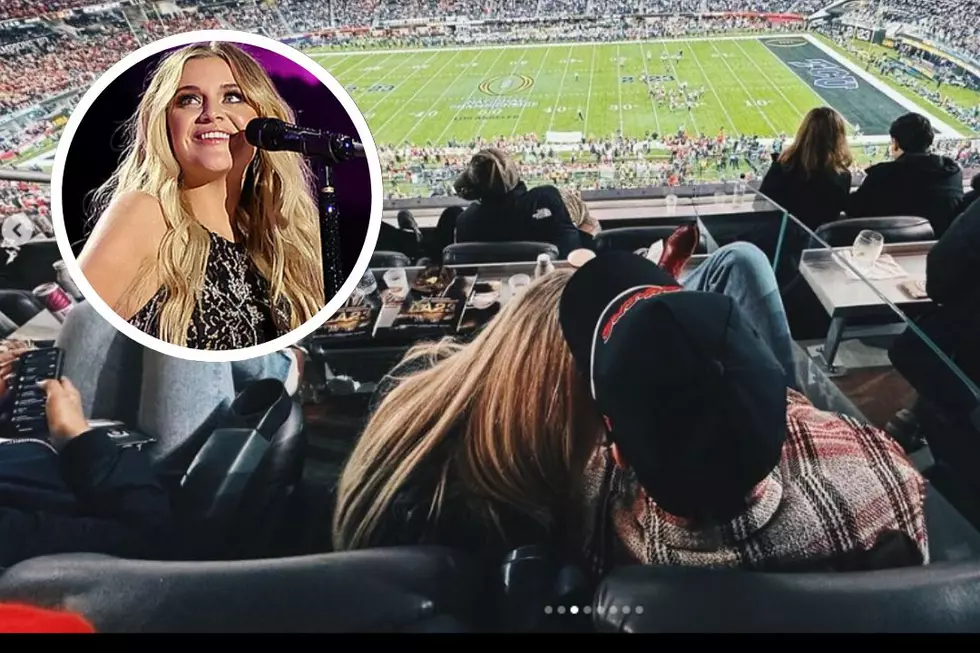 Kelsea Ballerini Spotted With Actor Chase Stokes + the Internet Erupts [Pictures]
Instagram/Getty Images
Photos of Kelsea Ballerini watching the national championship game at SoFi Stadium in Inglewood, Calif., with Outer Banks stars Chase Stokes, Austin North and other celebrities on Monday (Jan. 9) have gone viral, sparking rumors of a new romance between her and Stokes.
Ballerini headlined the Allstate Championship Tailgate ahead of the TCU and Georgia showdown. However, her vocal performance wasn't what has since made her fans go nuts.
The buzz all began when Raising Canes' CEO, Todd Graves, posted photos from the evening. Fans noticed Ballerini standing by Stokes, but a friend standing next to a friend isn't exactly worthy of a new-couple alert.
It was the actor's own post that set off the alarms.
Stokes posted a photo carousel to social media of random life moments, and after a few scrolls in, we're sure a few jaws dropped…did Stokes just hard-launch a relationship with Ballerini?!
With only their backs showing and the country singer's Instagram handle tagged, the two seemed quite cozy with each other. You can see Ballerini leaning into Stokes as they watched the game.
Ballerini commented "go vols,' on Stokes' post, adding an emoji of a monkey covering its face. That comment has racked up more than 2,225 likes.
This comment isn't the first banter between the two. Stokes has also left remarks on the singer's social posts.
The actor left this comment after Ballerini's recent vacation with pop singer Fletcher: "Could you please add piping hot sake to the list on slide 8 please with a side of burnt finger tips."
Since Stokes' post, several fans have turned to social media to debunk or promote the potential relationship.
Whether or not the two are truly together, only time will tell. However, they have offered no clarification for now.
Ballerini announced her divorce from country singer Morgan Evans in August of 2022, stating, "This deeply difficult decision is the result of a journey of love, growth, and effort that ultimately has come to an end. It's hard to find the words here ... but I feel extremely grateful for years of marriage to Morgan and hopeful for the next seasons."
The couple finalized their divorce on Nov. 15, the same day Ballerini found out she'd been nominated for a Grammy. She also picked up the keys to her new "dream home" that day before ending the evening with a performance at the Grand Ole Opry.
Ballerini has already started 2023 off with big news when it comes to her career. The singer added a second North American leg to her Heartfirst Tour for March. She'll kick it all off in Toronto on March 6, wrapping on March 18 in Pittsburgh, Pa.
16 Shocking Country Celebrity Breakups
These Heartwrenching Breakup Songs Hurt, Too