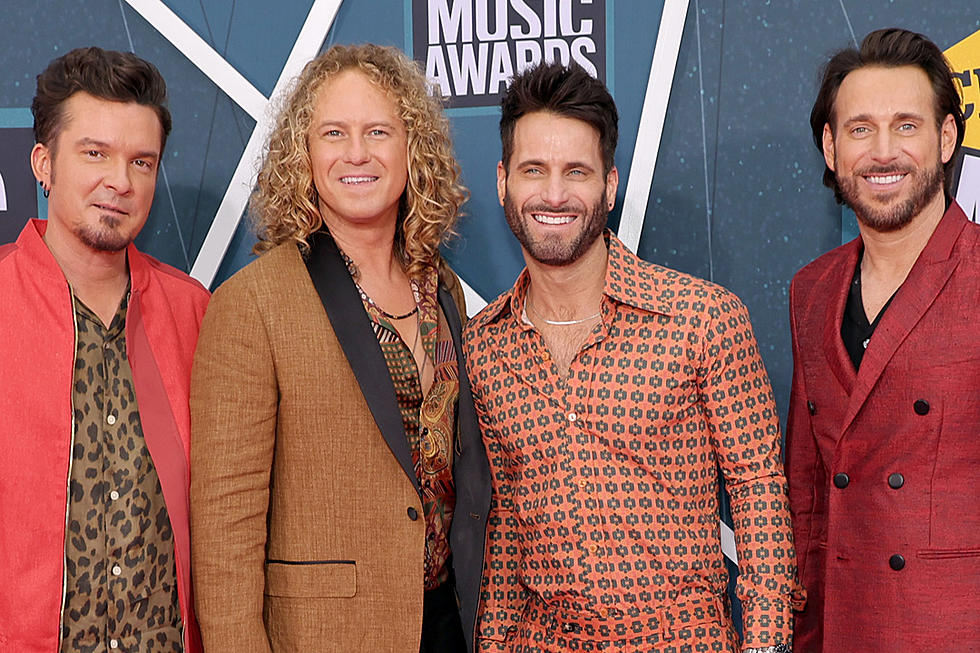 Parmalee's Response to CMA Snubs: Just Keep Working
Mike Coppola, Getty Images
Pamalee's "Girl in Mine" is charging toward No. 1 on the Billboard Country Airplay chart, and if it hits, it'll be three chart-toppers in two-and-a-half years for the group from eastern North Carolina.
That's one more than the five nominees for 2023 CMA Vocal Group of the Year have combined since 2021, but lead singer Matt Thomas and friends aren't in that category.
"We're living the snubbed life," he tells Taste of Country, with a hint of resignation in his voice.
Parmalee have quietly been kicking butt. "Take My Name" was the most-played country song of 2022, and "Just the Way" was Top 10 on the same list in 2021. This year brought a headlining tour, a supporting tour with rock band Train and more new music. "Girl in Mine" is one of the new songs from For You 2, a deluxe version of their 2021 release.
Related: 9 CMA Awards Nominations Snubs In 2023, Ranked
Talking to ToC in December, Thomas said the band's fortunes changed when he took his manager's advice and put the guitar down on stage, but that explanation trivializes a lot of hard work. The new songs on For You 2 come from a batch of dozens they've finished in recent years. Hard work is meeting opportunity, so luck — and some recognition — will soon follow, right?
All four members of Parmalee (Thomas, Scott Thomas, Barry Knox and Josh McSwain) sat down with Evan Paul from Taste of Country Nights for this interview. Look for the full interview soon on Taste of Country Nights, On Demand, a weekly artist interview podcast available on Spotify, Apple Podcasts and other platforms.
You won't say it, so I will: You got snubbed big time by CMA voters, again. 
Matt Thomas: I'll say it.
Any idea why?
MT: I'd just like to see what the criteria is to get the nomination. Maybe we didn't meet all the criteria.
Scott Thomas: We're getting a lot of attention from getting snubbed, so maybe that's the way to go.
We're hearing a lot about inner-band turmoil lately. I talked to Dan + Shay, they went through counseling. Brothers Osborne, they did get counseling. Old Dominion have Time, Tequila, & Therapy. Have you guys ever come close to breaking up?
MT: No. Not, not ever. He (points to drummer Scott Thomas) got shot and almost died before we even got a record deal.
ST: Woe is me. Woe is me everybody.
Barry Knox: (exaggerating) Four guys, they have to play in a band together and be rich and famous (all laugh). Oh my goodness. I'm so sorry.
I love hearing that. I hear some major Boyz II Men influences on the new song, "Gonna Leave You." Are there some R&B influences on your music? 
MT: Big time. We grew up on that. All those melodies. I'm a melody guy and that's what I was influenced by, a lot of those R&B melodies, pop melodies growing up. It's just big songs.
We grew up on blues and soul music — what they call beach music in eastern North Carolina. You just heard it everywhere growing up.
"Girl In Mine" is on the verge of becoming your third straight No. 1 hit. How far would we have to walk into your house before we know we're in a member of Parmalee's house? 
MT: Mine, you get up to the garage because I got road cases and crap everywhere (laughs).
Josh McSwain: Mine, you gotta go upstairs. I got all the plaques and everything hanging upstairs. If you come in the living room, you wouldn't know.
Tell me about touring with Train. 
MT: It was awesome.
BK: Amazing band.
MT: It worked great for us, the kind of crossover crowds. We were playing these cool venues, these performance arts theaters and stuff like that. We got to play a lot of cool places we would never had played ... in markets we would never go to that aren't typically in the country realm. Man, what a great time.
Did you play any songs with them on stage? 
MT: Oh yeah. We did "American Girl," Tom Petty. Which, I never actually played that song or covered it or anything. You kind of know like, parts. Everybody knows "Well, she was an American girl / Raised on promises." What's the next lyric? (laughs).
The coolest thing was doing "Hold on Loosely" by .38 Special. We got to do that every night.
What's (Train frontman) Pat (Monahan) like? 
MT: He's a cool dude, man. You gotta think about someone like him who's been there as long as he has. He's been there since '99 and continuously had hits and was an iconic band and always has been.
JM: You forget how many huge songs they had. We played "Drops of Jupiter" in our set, which I would have said was my favorite, but hearing all these others is a flood of memories.
BK: "Mississippi" is the one I like now. That's stuck in my head.
I had beef with "Meet Virginia," because it didn't have an intro, which as a radio DJ, you can't really talk into it. 
BK: Like all our songs?
Yeah! Like you guys (all laugh).
BK: The next one has an intro.
2023 CMA Awards Nominations Snubs, Ranked
The nine snubs found on this reaction to Thursday's (Sept. 7)
2023 CMA Awards nominations
announcement range from "Drat!" to "Aww, come on!" to "You've gotta be freaking
kidding
!"
Typically we include snubs
and
surprises, but there was really only one CMA nomination surprise:
Lainey Wilson
for Entertainer of the Year. Her nine nominations surely exceed her wildest dreams for the November 8 ABC broadcast. This is her year!
As for the group listed below? Well some (we see you,
Kane Brown
) are used to it, while others got a goose egg with no warning. The last three snubs on this ranked list are particularly egregious. Each one highlights a space where logic should live, but does not.
15 Country Artists Who Deserve to Be in the Rock & Roll Hall of Fame
With Dolly Parton's 2022 induction into the Rock and Roll Hall of Fame — and, even more recently, Willie Nelson's nomination for the 2023 class — it's clearer than ever that country artists have a place in the Cleveland-based institution's hallowed halls. But the Rock & Roll Hall of Fame has always shown love to country performers, to a certain extent: Johnny Cash, Chet Akins, Brenda Lee, the Everly Brothers and Hank Williams are all past inductees.
Based on the criteria the Hall has set forth, that nominees should be acts who have had "a profound impact on youth culture," there are still many more country artists who deserve their spot in the Hall. Flip through the gallery below to see Taste of Country's top picks for who the Rock and Roll Hall of Fame should induct next.