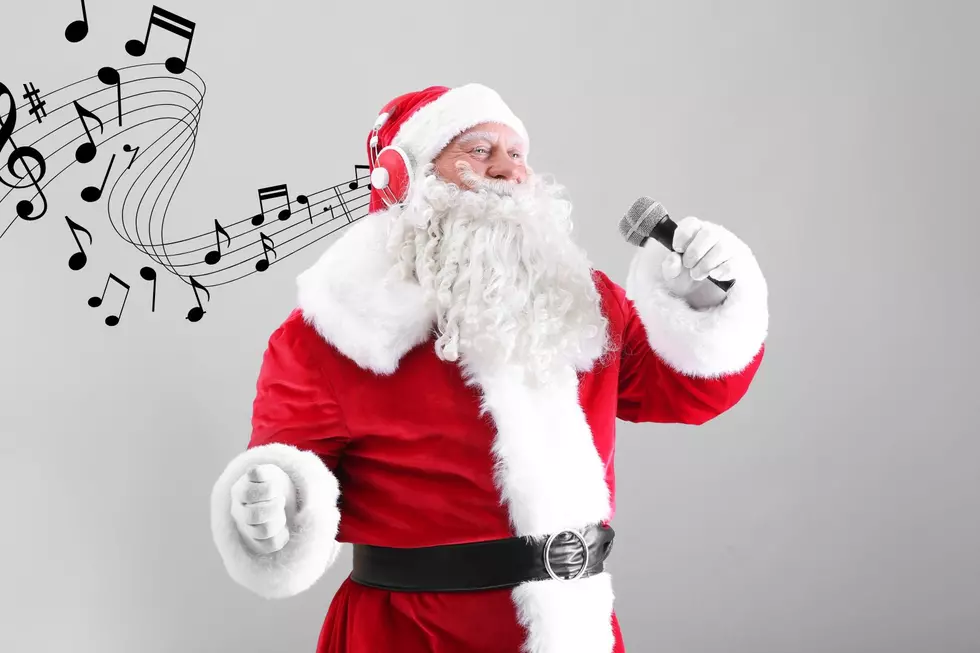 Top Ten Most Loved Christmas Songs in Minnesota
Canva
Top Ten Most Loved Christmas Songs in Minnesota
I recently ran a poll on social media...name your favorite Christmas songs and your least favorite Christmas songs. Today, we'll count down the Ten Most Loved Christmas Songs in Minnesota!
10. "Let it Snow! Let it Snow! Let it Snow" by Frank Sinatra
The book Songwriters on Songwriting by Paul Zollo quotes songwriter Sammy Cahn on this song "'Let It Snow' was written on Hollywood and Vine on the hottest day of the year. I said to Jule Stein, 'Why don't we go down to the beach and cool off?' He said, 'Why don't we stay here and write a winter song.'
9. "Holly Jolly Christmas" by Burl Ives
The guy that wrote this song, Johnny Marks, has another smash hit Christmas song. Marks also wrote "Rudolph The Red-Nosed Reindeer,"
8. "The Christmas Song" by Nat King Cole
In 2006 it was announced this was the most-played holiday song of the previous five years...and even though it's been covered by a metric ton of singers, Nat King Cole's version is the most popular.
7. "White Christmas" by Bing Crosby
Written for Bing Crosby to sing in the 1942 movie Holiday Inn (as a person stranded in California during Christmas). 12 years later, Paramount Pictures made the movie White Christmas to tie into the song, with Crosby singing it again. That's how popular White Christmas was!
6. "It's Beginning to Look a Lot Like Christmas" by Michael Bublé
This was written by Meredith Willson, who wrote the Broadway play The Music Man (which includes "76 Trombones").
5. "Jingle Bell Rock" by Bobby Helms
If you think the guitar on this song and Brenda Lee's "Rockin' Around the Christmas Tree" sound similar, it's ebcause Hank "Sugarfoot" Garland played on both buitar on songs.
4. "Last Christmas" by Wham
The proceeds of thsi song went to famine relief in Ethiopia...and then all of George Michael's first year royalties went to Band-Aid after he was sued by Barry Manilow songwriters for stealing the melody for "Can't Smile Without You."
3. "It's the Most Wonderful Time of the Year" by Andy Williams
Written by George Wyle and Eddie Pola. You probably don't realize you know another of Geroge Wyle's songs; he wrote the Gilligan's Island theme.
2. "Rockin' Around the Christmas Tree" by Brenda Lee
Brenda "Little Miss Dynamite" Lee was only 13 years old when she recorded this song. In 2006 she said, "Owen (produer) had the studio all freezing cold with the air conditioning, and he had a Christmas tree all set up to kind of get in the mood just a little bit. We had a lot of fun."
1. "All I Want for Christmas is You" by Mariah Carey
The record company did what a lot of record companies did in the 1990's. They didn't sell the single being played on the radio. They wanted you to buy the whole album. That's why it didn't make any sales charts for a while, but in 1994, hit #12 based on airplay only!
I know that last one is kinda controversal...a love it or hate it for many people. But, is it unpopular enough for Minnesota's 10 Least Favorite Christas Songs list? You'll have to wait a few days to find out!
Music begins with M. So does Movie! So let's check out amazing Christmas movies.
The Most Popular Christmas Movies of All-Time
As always, if you have a comment, complaint, or concern about something I wrote here, please let me know: james.rabe@townsquaremedia.com
Get Your Sled On at One of These 10 Sledding Hills in and Around Rochester, Minnesota
Are you looking for an amazing spot to take the kids for a fun day sledding? Look no further because here are 10 of the best spots to have fun on a sled in Rochester, Minnesota.
Five Rochester Minnesota Airbnb's Perfect for a Romantic Getaway
There are many many wonderful places to stay in and out of Rochester, Minnesota. These are five I found that have something special about them...they'd be great for a Friday / Saturday night away not too far from the kids.
Of course, if the kids are teens, then you don't have to tell them you'll be in Rochester...and do a spot check. Click on the images to get the link to that particular listing.