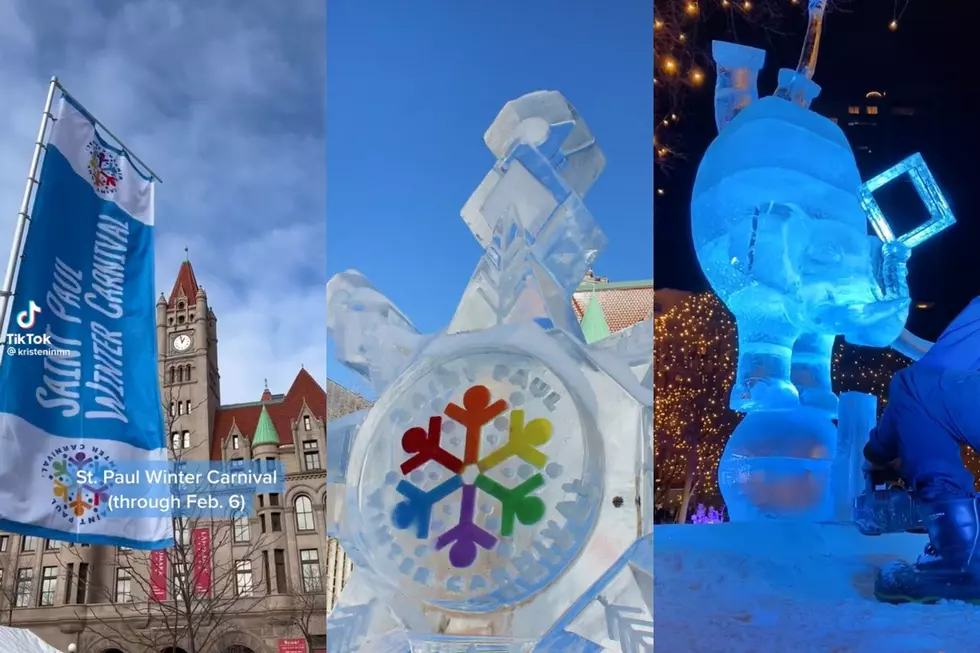 Minnesota's Most Famous And Wonderful Winter Festival Starts Today
photos by @tomklug5 and @kristeninmn on TikTok, and @landmarkcenter on Instagram
Today marks the first day of the 2023 Saint Paul Winter Carnival. For the 137th time, the 10-day event will push through single digits and sub-zero temperatures most of the way.
While I was born and raised in Minnesota, I did not know how big of a deal this was! That was until I checked online at National Today, and they have it listed as a 'holiday' and the fact that it is known as "holding the distinction of being the oldest winter festival in the United States and has been held almost yearly ever since its inception, except during World War II."
How did this all start though? Well, National Today explains that when "New York reporters visiting Saint Paul in the fall of 1885 made the mistake of likening it to Siberia, also calling it unfit for human habitation. And so, the Saint Paul Chamber of Commerce decided to prove their city was not just loveable but fun too."
Then after seeing Montreal's Winter Carnival, St. Paul said "hey, let's join in on the celebration." And so St. Paul decided to create this carnival as a celebration, adapting the legend of Boreas, originally written by newspaper columnist Frank Madden in 1937. You can read all about the legend on the Winter Carnival website!
The fact that this carnival all started because Minnesotans wanted to prove that you could do fun things in this kind of weather is just awesome to hear! Plus, this year's carnival will push through sub zero temperatures! This honestly so cool because our tundra weather is stopping no one from having some fun!
See Also: Best Places in Minnesota to Visit in the Winter
This Years Winter Carnival starts today with the "Multi-Block Ice Carving Competition, followed by the opening of the Vulcan Snow Sculpture Park at the Fairgrounds and the Ice Sculpture Park at Rice Park on Friday," noted by Kare 11. "The King Boreas Grande Day Parade is happening this Saturday, followed by the Vulcan Victory Torchlight Parade on the following Saturday, Feb. 4."
What is amazing is that Most events in the Saint Paul Winter Carnival are free and open to the public! Some activities, however, require tickets to be purchased in advance. Check out visitsaintpaul.com to see the whole agenda.
In addition, while the carnival is here to celebrate the winter weather, not all 57 events taking place are exclusively outdoors. Lisa Jacobson, president and CEO of the Saint Paul Festival and Heritage Foundation - which runs the Winter Carnival- explains to Kare 11 that "a warming house with beverages and food, which opens on the first day of the carnival, has been expanded this year."
So if you are looking to have some Minnesota winter fun within the next 10 days, visit St. Paul's Winter Carnival. And, as always, give a big thank you to Saint Paul Festival and Heritage Foundation, Hundreds of corporate and individual members, along with specially employed staff, and support the Board of Directors for helping put together America's longest-running Winter Festival!
All information is credited to kare11.com and nationaltoday.com.
Pictures from the 2023 World Snow Sculpting Championships In Stillwater Minnesota
The World Snow Sculpting Championships were held recently in Stillwater where teams from as far away as Mexico and Columbia competed against each other for a share of the top prize, medals, and the title of World's Best when it comes to snow sculpting.