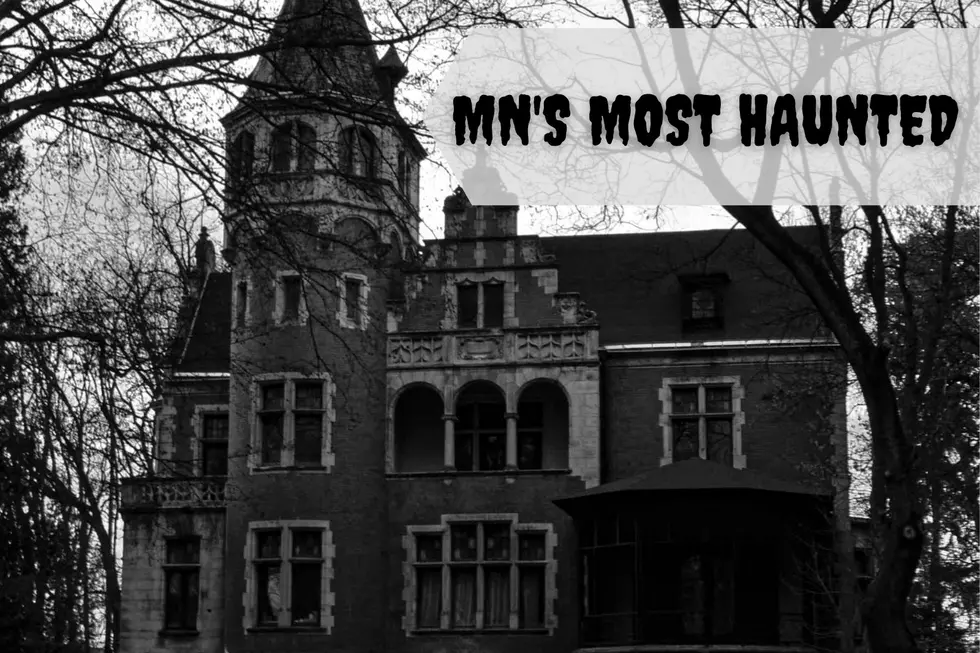 Minnesota's Most Haunted Places
Canva
Hey, it's spooky season and you know what that means! It is time to bring out the pumpkins, scary movies, and local folklore! And I have conjured up enough research to bring to you the most haunted places in Minnesota, so you could get your ghost hunting on!
First Avenue (St. Paul)
First Avenue is wildly known as the place for live music, but it is also known as an extremely haunted spot in Minnesota. Tcagenda.com explains the whole back story of why all the way back when the building was originally the Northland-Greyhound Bus Depot. "The story tells of a young woman who hanged herself in the 5th stall of the women's bathroom when she discovered her boyfriend had died in combat during WWII and wouldn't be coming home to her."
Ever since then not only has there been a series of malfunctioning equipment for many years, but many people have reported seeing a woman in the 5th bathroom stall wearing some sort of green jacket.
Mounds Theatre (St. Paul)
Originally built in 1922 for live entertainment, then was constantly renovated until the 60s when it was shut down. After being a warehouse for so long, it was opened back up in 2001, but there have been very interesting things occurring in this building all along.
Minnesotamonthly.com explains that "Jackie Day, [who re-opened the theater], attests to getting physically grabbed by a spirit while working late one night on a poster. Investigators prowling the basement have left with claw marks on their backs. And in the projection booth—still dominated by a pair of hulking reel-to-reels—a foul-mouthed entity named Red has been known to hurl both obscenities and objects at women… But the spooks aren't all jerks; the theatre's most notorious ghost is a young girl in a pink dress, often seen bouncing a ball on the stage." Now that is scary!
Glensheen Mansion (Duluth)
If Minnesota has a famous building list, this is definitely in the top 10! So it goes that the historic mansion and tourist attraction, was "Originally built in 1905 by the wealthy Congdon family, this history took a turn for the worse when Elizabeth Congdon and her nurse were brutally murdered in the mansion by the family's adopted daughter," explains discoverthecities.com. it is told that Elizabeth still haunts this mansion! Even if you do not see a ghost, I know there is a book that goes over the history and the specifics of what happened that night that you definitely need to check out!
Palmer House Hotel (Sauk Centre)
You know this one has to be good when the Travel Network Show, Ghost Adventures came to check it out. According to minnesotamonthly.com, "Legend has it that Lucy [a ghost that haunts room 17] was a prostitute working at the Sauk Centre House, a grim frontier brothel that occupied the current site of the Palmer. The Sauk Centre House burned down in 1900, and the Palmer was erected in its place the following year. But the new joint couldn't shake the legacy of abused and murdered women. Lucy is said to dislike men. She reacts to male guests by slamming the room door so hard it rattles the artwork on the wall and aggressively dropping the temperature."
There are also rumored sightings of a little boy on the stairs and even an entity many say could have been Lucy's pimp. The hotel offers tours and now I am dying to go!
Forepaugh's Restaurant (St. Paul)
According to discoverthecities.com, before the historic mansion was a restaurant it was a home. They note that "back in the late 1800s, Joseph Forepaugh had an affair with his mansion's young maid, Molly. Molly became pregnant and Joseph ended the affair, but Molly was so distraught that she committed suicide. According to reports, she hung herself in the attic by tying a rope to a chandelier and jumping out of the third-story window."
It was reported from the article that the restaurant's guests and employees have reported sighting a woman dressing in 1800s attire. They also note that lights have flickered on and off, and noises from the attic. This was so intense at one point in time that discoverthecities.com stated "it led to an investigation by the St. Paul police, whose K-9 dog refused to enter the attic."
Thank you for reading along! all information is provided by the articles from discoverthecities.com, minnesotamonthly.com, and tcaganda.com! check out the articles for other haunted places in Minnesota.
2022 Halloween Haunted Houses, Events, and Attractions in The Rochester Area
Scroll through the official 2022 guide for
Halloween
haunted houses, events, and attractions in Rochester and the Southeast Minnesota area.