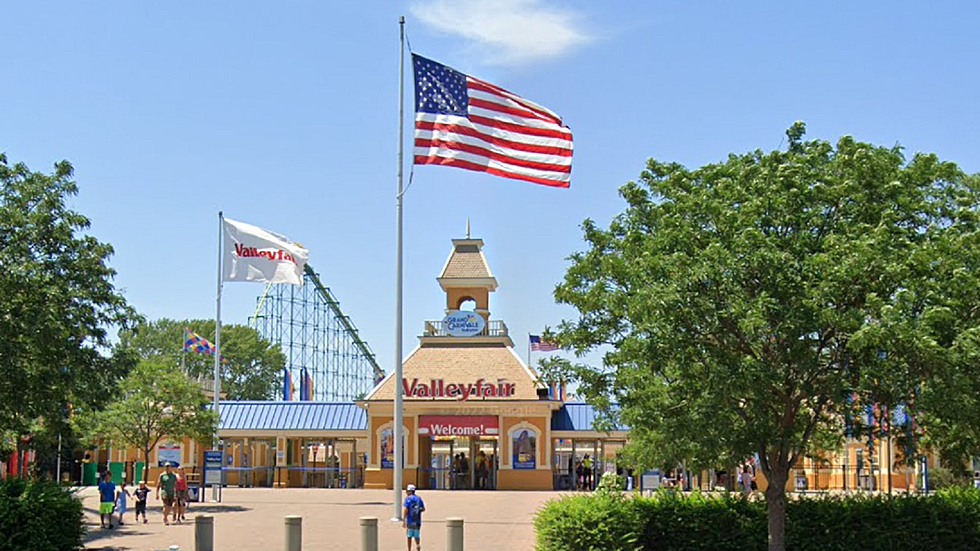 Minnesota's Valleyfair Announces New Chaperone Policy For Guests 15 And Under
Google Maps
Valleyfair, the popular amusement park attraction in Shakopee, Minnesota, is ready to open for the 2023 season during Mother's Day weekend, beginning with a special preview day.
It was announced earlier that there would be a Season Pass Preview Day for Silver, Gold, Platinum, and Pre-K Season Passholders on Saturday, May 13, from 11:00 a.m. to 5:00 p.m. The amusement park will then open to the general public on Sunday, May 14 from 11:00 a.m. to 5:00 p.m. Their Soak City water park is scheduled to open Memorial Day weekend.
While the usual thrills and fun can be expected this season, there is also a new policy that has been put in place to cut down on unruly and inappropriate behavior by their youngest guests.
Beginning with the 2023 season, they are implementing a chaperone policy, which states that all guests 15 years old or younger must be accompanied by a chaperone who is at least 21 years old to be admitted to, or remain in, the park after 4:00 p.m. local time to close.
The details of the policy state:
The chaperone must present a valid government-issued photo identification with date of birth at ticket entry. One (1) chaperone may accompany no more than ten (10) guests ages 15 or younger per day. In addition, the chaperone must accompany their party during entry, remain inside the park during their visit, and be available by phone throughout their stay. Guests ages 15 years old or younger who are found inside the park unaccompanied by a chaperone will be subject to ejection.
Valleyfair adds that this chaperone requirement applies to all Valleyfair ticket and season passholders.
Hopefully, that will help cut down the nighttime shenanigans from young teens at the park. Valleyfair says that inappropriate behavior has been on the rise across their industry and at other major entertainment venues.
They also remind all guests that the following behaviors or acts are never permitted at the park:
Carrying firearms, ammunition, knives, and weapons of any kind and any other prohibited item. Valleyfair reserves the right to prohibit any items at their discretion
Unsolicited photographing or video recording that disrupts a guest's experience or interferes with park operations
Unruly or disruptive behavior that interferes with guests' enjoyment of the park including running, the incitement of running, and blocking midways and exits
Fighting or physical aggression of any kind, including verbal and physical assaults
Acts or behavior that park management determines is a safety concern or that interrupts park operations or guests' experience
Harassing/threatening behavior, sexual misconduct, or lewd behavior including inappropriate interaction with park guests or associates
Offensive language or gestures
Clothing with offensive language, obscene gestures/graphics, or nudity, or clothing that does not sufficiently cover undergarments
Intoxication or substance impairment that results in irresponsible behavior
Smoking/Vaping is not permitted inside the park
Entering restricted areas including but not limited to ride Danger Zones and behind-the-scenes areas
Line Breaking- includes leaving and re-entering a line for any reason or place holding in line
Theft of any kind
Selling park tickets or soliciting and distributing literature not sponsored by the park
Refusing to follow verbal or printed instructions or cooperate with park personnel or security
One could assume the new chaperone policy stems from behaviors witnessed at the park in recent years, which can ruin the Valleyfair experience for other guests. While it may be an inconvenience for some, the goal is to make sure the park experience is a good one for all.
LOOK: Oldest Disneyland Rides From 1955 to Today
Stacker
, set out to compile a definitive list of every Disneyland attraction you can enjoy today and ranked them by their age. Using real-time data from
Touring Plans
, Disney archives, and historical news releases and reviews, our list starts with exciting recent park additions and stretches back to the oldest opening-day classics. This list focuses on the original Disneyland Park, so you will not see any rides from its neighboring California Adventure located just across the promenade. Read on to discover the oldest Disneyland rides you can still ride today.
LOOK: 25 must-visit hidden gems from across the US
From secret gardens to underground caves,
Stacker
compiled a list of 25 must-visit hidden gems from across the United States using travel guides, news articles, and company websites.