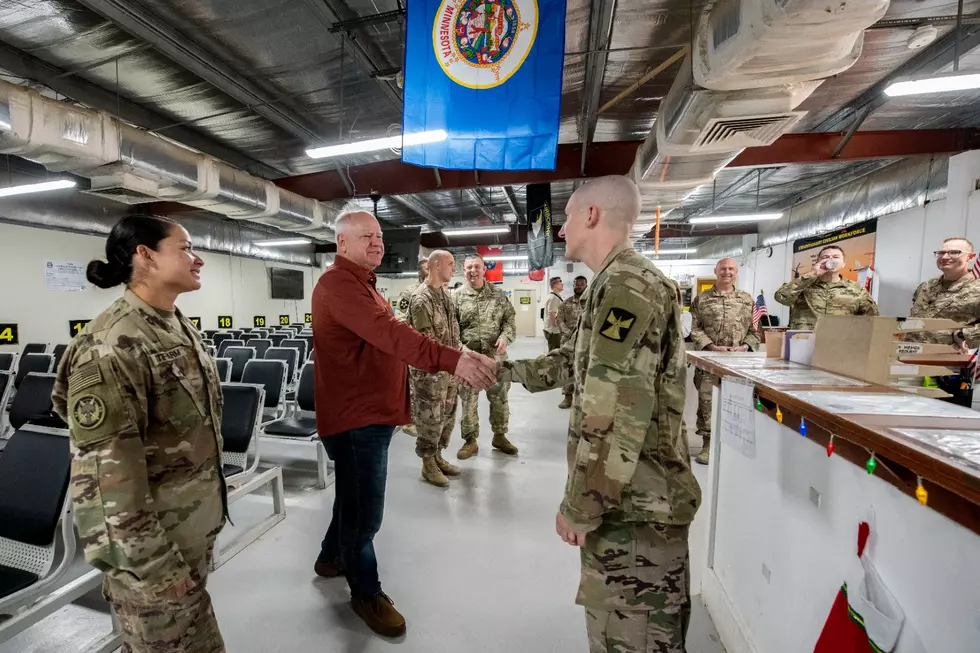 MN Gov. Walz Signs Military Bill
Minnesota Governor's Office
ST. PAUL (WJON News) - Minnesota Governor Tim Walz has signed a comprehensive veterans and military affairs bill into law.
The bill (Chapter 38, House File 1937) is a mix of service and retention bonuses for members of the Minnesota National Guard, funding for veterans homes and other veteran homelessness issues, and funding for National Guard readiness. 
Governor Walz says this bill moves Minnesota closer to becoming the fourth state to declare an end to veteran homelessness statewide. 
For the dedication and sacrifice our military members and veterans give to our state and country, they deserve our highest support. By expanding service bonuses, investing in veterans' homes and the health of our service members, and moving Minnesota closer to ending veterans' homelessness, this bill will improve the lives of veterans and service members across the state. With nearly unanimous support from the legislature, this bill shows that Minnesotans deeply care about their veterans, and we will continue to show up for them at the Capitol.
Highlights of the bill include:
Service and Retention Bonuses 
The bill includes an additional $15 million for service bonuses for post-9/11 era veterans and Gold Star Families and $3 million for reenlistment bonuses for members of the Minnesota National Guard. The bill also expands eligibility for the 9/11 bonuses to include veterans who currently live in Minnesota but were not Minnesota residents when they entered service.
 Veteran Homelessness
 The bill includes millions in new funding to effectively end and prevent veteran homelessness, including funds to construct dozens of permanent supportive housing rental units and facilitate the Homeless Veteran Registry, a tool that identifies veterans experiencing homelessness and connects them to services. 
 Veterans Homes
The bill includes $47 million to start up and operate three new veterans homes to support aging veterans in Bemidji, Montevideo, and Preston, Minnesota. The new veterans' homes are scheduled to open later this year.
Minnesota National Guard Readiness
 The bill includes $1.5 million to adopt a health and fitness program for the Minnesota National Guard, which has been shown to reduce substance abuse and suicide rates and improve overall health, fitness, and health-promoting behaviors.
The bill passed both the House and the Senate with almost unanimous support. 
READ RELATED ARTICLES
Come Visit Albany, MN With Us in Pictures