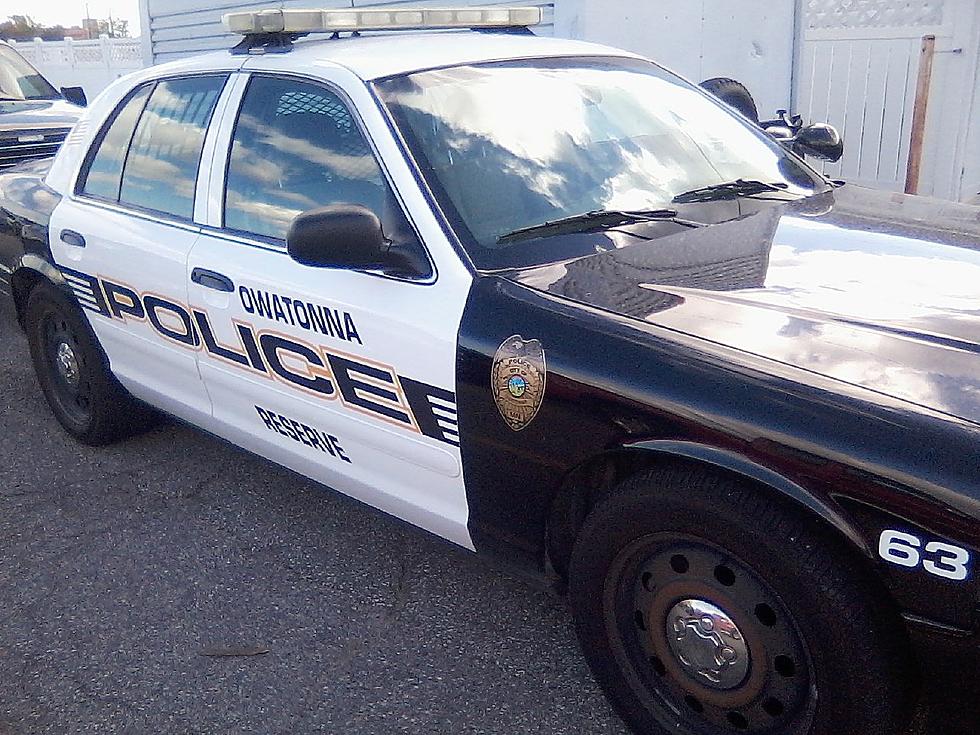 Owatonna Police Made 3,701 Calls in December
Townsquaremedia
The Owatonna Police Department made over 3,700 calls in the month of December 2021 according to a report from their Just the Facts newsletter. Those numbers included 15 DWI arrests, the biggest number of any month of 2021.
Here's the breakdown of service calls made by Owatonna police in December 2021.
472 traffic stops
242 medical emergencies
161 animal calls
97 ordinance violations
89 suspicious activity calls
79 alarms
65 motor vehicle accidents
15 juvenile calls
14 domestic disturbances
8 warrants
Officers issured 111 citations and 398 warnings. The top five citation types
speeding
expired registration
no insurance
invalid driver's license
failure to stop
Owatonna police are seeking the public's help in locating a man who may have been involved in a hit-and-run. Look here for his picture. You can contact the police department at 507-451-8232 with information or go here for the tip line.
THIS WAS DEFINETELY NOT SANTA CLAUS
Owatonna police made a traffic stop for an equipment violation early on Christmas morning. Just the Facts reports, "Upon making contact with the driver, the officer noticed several open containers of alcohol within the vehicle. After the driver failed his field sobriety tests, he was arrested for probable cause DWI.
A loaded gun was found in the vehicle. Twenty-one year old Carter Hagen of Ellendale was arrested on "4th degree DWI, carrying a pistol while under the influence of alcohol, and possession of a pistol without a permit in a public place." Twenty-three year old Keton Brown of Owatonna, a passenger in the vehicle, was arrested for outstanding felony warrants.
Enter your number to get our free mobile app
Overused Words And Phrases Minnesotans Should Retire From Their Vocabulary
There are certain words and phrases it seems like everyone in Minnesota uses, and they're getting kind of tired. Here are some that we should consider giving a rest.
Check Out What $2.3 Million Can Buy You in Rochester, Minnesota (Hint - it has a tennis court!)
You may not be able to afford it but I highly suggest adding this Rochester, Minnesota house to your wish list! It just went on the market and had a huge 2,600 addition designed that has helped bring the square footage of this home to 5,926. It features 6 bedrooms, 8 bathrooms, and has a kitchen that will make your jaw drop! Basketball court, tennis court, and a whole bunch of fireplaces make this home in Pill Hill one of the most desirable places to live.
You can see the full listing for 835 8th Ave SW by Melissa Niichel at Edina Realty, Inc.
here.
Best Places For Dating In Minnesota: Here's What You Need To Know
According to
HomeSnacks.com
, these are the best cities for dating in Minnesota, and as their staff writers so delicately put it, if you're thinking, "Hey, I live in one of those places. It's hard to find a date." Well, then perhaps it's not them. It's you.
(Ruthless, no?)
All 37 Minnesota Restaurants that Have Been Featured on the Food Network
Many Minnesota restaurants have been featured on the Food Network over the years. Some have closed now, but I checked out the
Food Networks website
, the
Diners, Drive-Ins, and Dives website
, and
TVFoodMaps.com
to find all of the Minnesota restaurants that have been featured on their channel in the past and found these 37 (in no particular order) that are still open.