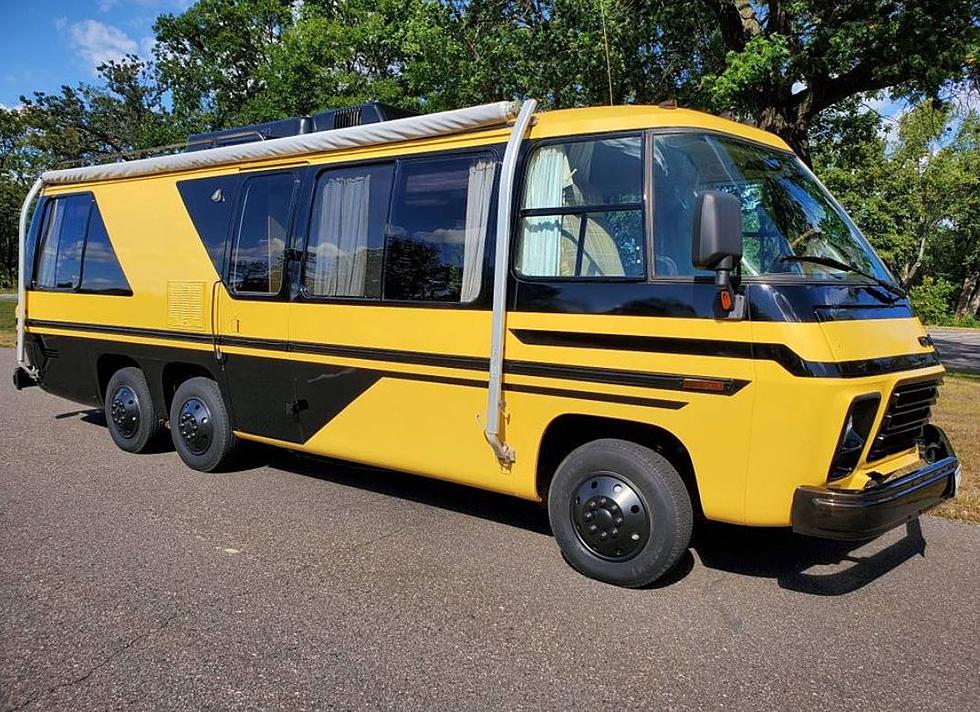 Retro Cool! Escape The Bugs This Summer In This 1970s Minnesota RV!
Image Credit: Erin Rider via Facebook Marketplace
Yesterday I went scrolling through Facebook Marketplace, as my wife is looking for a jukebox for a client. I figured why not take a look at what vehicles were for sale, after striking out on something that would interest the client. Look at this gem in Champlin that is listed for sale!
The listing was made by Erin R on Marketplace, and whoever makes this their next ride, it sounds like is getting an extremely fun machine!
The vehicle's online description from Marketplace states that it is a "1975 GMC motorhome." With an "Oldsmobile 455 engine" and the vehicle is front-wheel drive.
The listing goes on to say that the vehicle:
"Run and drives great. Lots of new parts. New stainless steel exhaust, airbag suspension, tires, brake calipers, rotors, pads, hoses. New wheel bearings, axels, shocks and bushings. One ton front end conversion installed. Four wheel rear disk conversion installed. Custom paint, new windshield, refrigerator, 3300 watt generator. Needs house batterys, some interior gages don't work, and dash ac doesn't work. Lots more new parts. All new parts and repairs have been done over last 6 years. With less than 500 miles on new parts. 55,000 miles"
According to LenConnect.com
It is unclear why GM decided to get into the RV business in the early 1970s, which was a decade that saw the price of oil skyrocket, but that is exactly what happened. The new vehicle was known as the TVS-4, Travel Vehicle Streamlined. The GMC Motorhome was a contrast to most motorhomes of the day which were built on heavy-duty truck chassis supplied by a chassis manufacturer.
Look how sweet and retro that interior is!
You can see additional photos of the for sale RV, for which the seller is asking for $22,000, here.
40 Things to Do in Central Minnesota This Summer
Come Visit Fairhaven, Minnesota in Pictures
Come Visit Albany, MN With Us in Pictures