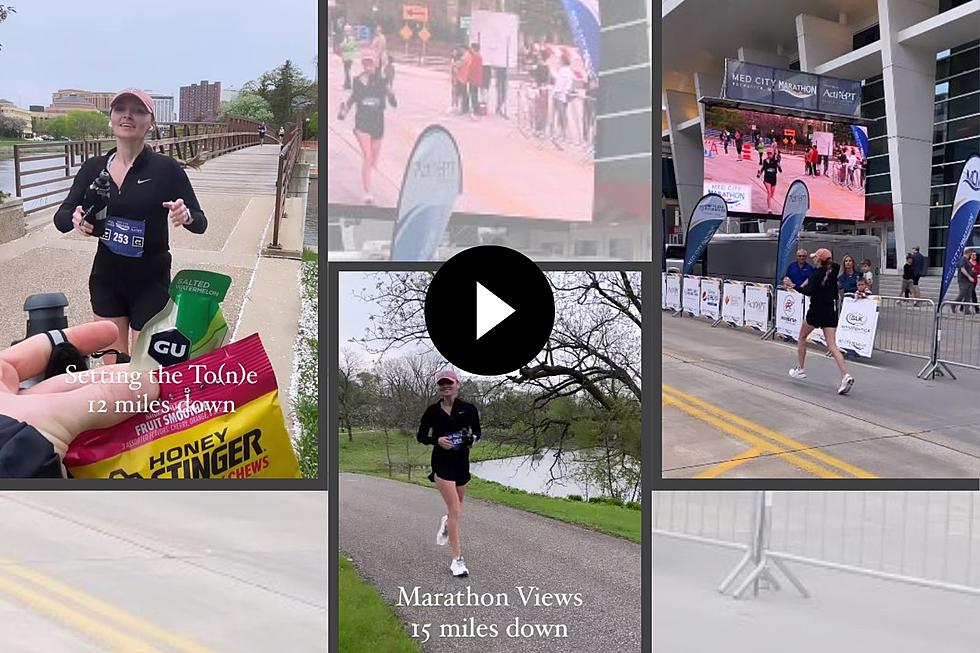 SE Minnesota Couple's Video at Med City Marathon Goes Viral (WATCH)
Carson Henry (@chenry_creative) via Instagram
A Byron, Minnesota native, Shelby Strain, decided to start running a few years ago. She just recently ran her first marathon and the video that was taken at the marathon has gone viral. It has over 5.5 million views!
Shelby told KTTC that she first started with 5ks but has now built up her endurance and decided to try out her first marathon close to where she grew up. She ran the Med City Marathon here in Rochester.
It sounds like Shelby and her partner, and St. Charles native, Carson, live in North Dakota now but they came all the way here for Shelby to run.
Carson was really impressed with Shelby's tenacity so he decided he wanted to document her first marathon. He said "'we got to get this documented.'"
So every few miles during the Med City Marathon Carson would surprise Shelby on the sidelines. It was all caught on video, he put it together into a reel, put it up on Instagram, and it exploded.
They have officially gone viral with over 5.5 million views.
Shelby said that she had no idea he was going to pop up throughout the race that many times. "'I thought he was just going to show up like once in a while.'"
If you haven't seen the video yet, check it out:
I just love how it's such a simple video of Carson supporting Shelby during her first marathon and it went absolutely nuts. Having someone in your life like that is so valuable ❤️
But wait, there's more!
One week later while Carson and Shelby were in Arizona, Carson proposed.
How exciting! Congrats to Shelby on finishing her first marathon and congrats to both of them on their engagement.
Beautiful but Forgotten 110-Year-Old SE Minnesota Mansion For Sale
A beautiful mansion is for sale in Winona, Minnesota. It's over 110 years old but it's also appears to have been forgotten.