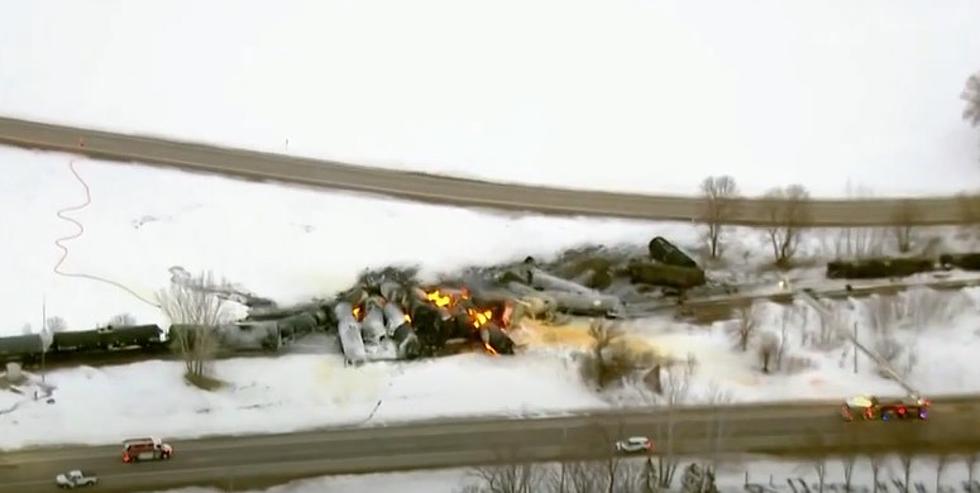 Thursday's Train Derailment Is Latest Of Over 60 In Last 5 Years In Minnesota
Fox 9 Minneapolis
Early this morning, another train derailed in Minnesota. It happened in Raymond, Minnesota. According to Fox 9, 22 train cars derailed and several started on fire. Some of them were carrying ethanol or corn syrup. Officials ordered an evacuation for a half-mile radius, sending a phone alert and going door to door to notify residents. Fortunately there were no injuries or fatalities reported.
Raymond, Minnesota is located in the south-central area of the state, about 2 hours west of the Twin Cities Metro area.
Roads were also closed in the area because of the derailment. Highway 23 closed in a section through Friday evening as they work on investigating and cleaning up the incident.
Doesn't it seem like there have been a ton of train derailments lately? It's been all over the news across the nation. What's been causing all of them? How often does it actually happen? Turns out a lot more than you realize, because most of the derailments aren't major disasters. However, the recent derailments that go up in flames are making the news.
There are on average 3 derailments in the United States per day.
Earlier this month, NPR reported that there are about 3 U.S. Train derailments per day in the United States. Last year there were 1,000 train derailments in the country.
Human error is the leading cause.
The leading cause last year was human error. The second most common was track defects causing trains to leave the tracks.
Some suggest that a lack of workers, poor maintenance, and other issues have led to the problems. Overall, track safety is much better than it was 50 years ago, and there are fewer derailments, but they still happen.
Minnesota derailments by the numbers
CBS News reports that train derailments are more common than you think. From 2018-2022 60 trains came off the tracks, causing over $10 million in damages.
Other accidents reported with trains include railroad crossing accidents, obstructions, collisions, and other impacts.
Secretary Of Transportation acknowledged derailment.
The Secretary of Transportation, Pete Buttigieg, tweeted out that they were investigating the accident and more details would come.
Federal Railroad Administration reports almost 600 derailments in 2022 alone.
The FRA reports that there were 588 railroad derailments last year in the United States, causing over $100 million in debt.
See the Must-Drive Roads in Every State