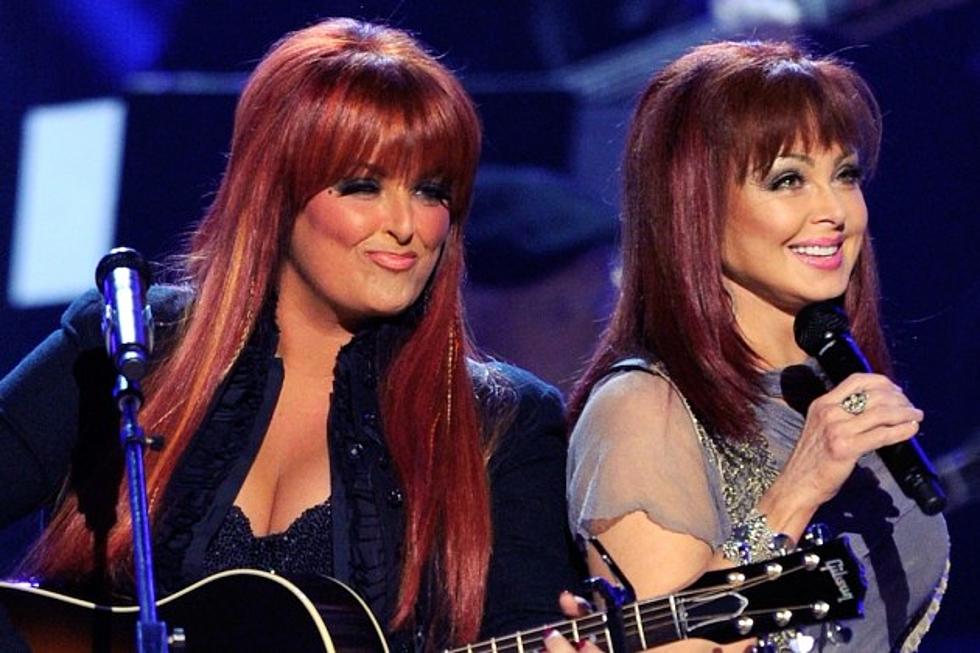 Ethan Miller, Getty Images
With a string of No. 1 singles, many of which are considered country standards, the Judds -- mother Naomi and daughter Wynonna -- became one of the most successful duos in country music history.
Their familial ties, gift for shimmering harmony and knack for finding songs to which listeners can easily relate -- in effect making them part of the extended Judd family -- are but a few of the reasons the tunes on this list, as well as plenty of other Judds tracks, have withstood the test of time:
10

"Guardian Angels"

From: 'River of Time' (1989)

Key Lyrics: "When I'm really tired and I don't know what to do / Fanny whispers, 'Just do your best, we're awful proud of you.'"

Naomi and Wynonna Judd's lovely, ethereal vocals help paint vivid pictures from the past, while offering solace and encouragement for the present, in this song, on which Naomi Judd was a co-writer. "Guardian Angels" was released in 1990, as the fourth single from River of Time, and later turned it into a beautiful picture book for children.

9

"Dream Chaser"

From: 'Wynonna & Naomi' (1983)

Key Lyrics: "Dreams as big as the trees are tall / I knew I'd have nothing or I'd have it all."

A beautiful tune whose title would also inspire the name of the Judds' bus, "Dream Chaser" not only encapsulated the dreams of a mother and daughter from Kentucky, but was (and is) positive affirmation for anyone pursuing their closely held dreams and desires.

8

"That's What Makes You Strong"

From: 'New Day Dawning' (2000)

Key Lyrics: "That's what lets us smile in our final hour / That's what moves our souls, and that's what makes us sing."

One of four new tunes included on a 2000 bonus disc with Wynonna Judd's New Day Dawning, this Jesse Winchester-penned beauty, more recently covered by bluegrass singer Claire Lynch, is an irony-filled meditation on life and love's most maddening -- and comforting -- catch-22 situations.

7

"Have Mercy"

From: 'Rockin' WIth the Rhythm' (1985)

Key Lyrics: "I called you up on the telephone / I could hear you was playing Haggard and Jones / I knew right then that there was something wrong / There's only one reason you play cheatin' songs."

The Judds obviously had fun recording and performing this country smash, and three decades later, it still sounds fresh and exciting. There's also a killer piano solo and some of Wynonna Judd's most inspired hoots and hollers. Have mercy!

6

"Why Not Me"

From: 'Why Not Me' (1984)

Key Lyrics: "You've been searchin' from here to Singapore / Ain't it time that you noticed the girl next door? / Baby, why not me?"

Buoyed by one of Wynonna Judd's most confident yet vulnerable vocal performances, the title track of the duo's first full-length album helped earn them the CMA's Horizon Award in 1984. The song was their second No. 1 hit on the country charts, where it spent a total of 15 weeks.

5

"Maybe Your Baby's Got the Blues"

Key Lyrics: "Women like men to make the first move / And touch her like he used to."

This heartfelt advice to men everywhere also spotlights one of the most enchanting melodies to which the duo ever harmonized. Women may claim that men never listen, but it's easy to take this advice to heart when it's wrapped in such a beautiful package.

4

"Grandpa (Tell Me 'Bout the Good Ol' Days)"

From" Rockin' With the Rhythm' (1985)

Key Lyrics: "Did lovers really fall in love to stay, stand beside each other come what may? / Is a promise really something people kept, not just something they would say?"

Bittersweet and nostalgic, this delicately delivered tune was released at a time when everything the Judds did turned to gold (or platinum). While they no doubt were enjoying the ride, they were also likely taking these lyrics to heart.

3

"Young Love (Strong Love)"

From: 'River of Time' (1989)

Key Lyrics: "From that day on, you couldn't keep them apart / They were side by side and heart to heart."

One of the most romantic and gorgeous songs the Judds ever recorded, "Young Love (Strong Love)" features a story that ends happily, but it's still hard not to shed a little tear each time you hear it. While the harmonies are there, this one hinted at the powerhouse that Wynonna Judd would become when she stepped out on her own.

2

"Mama He's Crazy"

From: 'Wynonna & Naomi' (1983)

Key Lyrics: "Mama, you've always said, 'Better look before you leap' / Maybe so, but here I go lettin' my heart lead me."

The first of the duo's 14 No. 1 hits, "Mama He's Crazy" helped the mother-daughter duo instantly captivate fans, thanks in part to the intimate, conversational tone of what would become one of the pair's signature songs.

1

"Love Can Build a Bridge"

From: 'Love Can Build a Bridge' (1990)

Key Lyrics: "I would swim out to save you, in your sea of broken dreams / When all your hopes are sinking, let me show you what love means."

If the Judds have an anthem, this is it. A Top 5 hit for the duo, "Love Can Build a Bridge" featured transcendent lyrics that helped it become a worldwide smash as recorded by Cher, Chrissie Hynde, Neneh Cherry and Eric Clapton. It reached No. 1 in the UK and was also a hit in several other countries. The Judds shot the first-ever 3D music video for the song, yet it's the simple, hopeful lyrics that shine brightest.