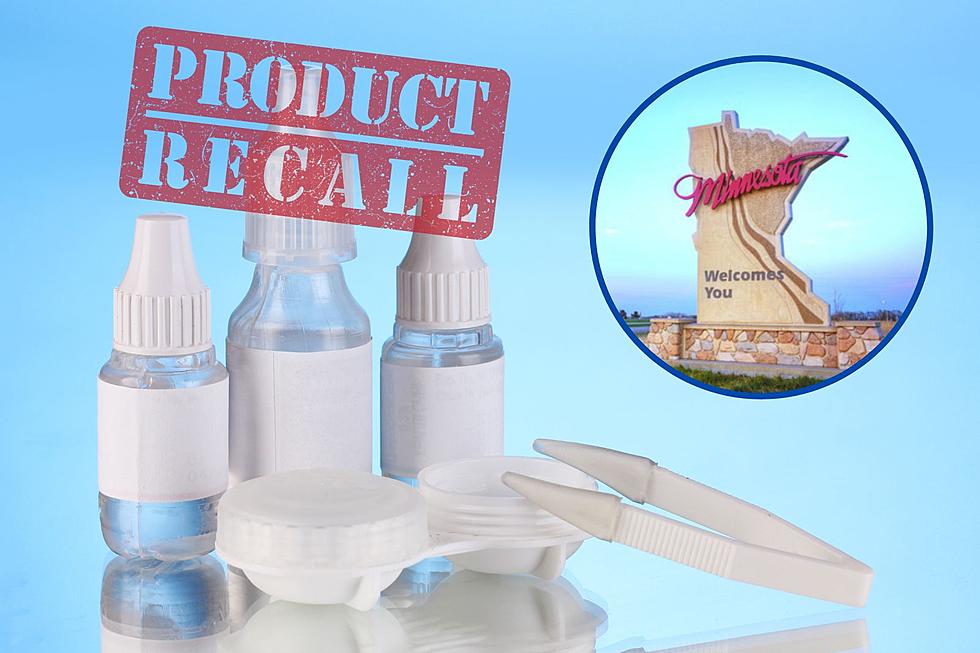 Warning: Do Not Use These Recalled Eye Drops in Minnesota
Canva
There's been another recall involving eye drops, and Minnesota is included, so be sure you DO NOT use these drops!
It's not too often the US Food and Drug Administration (FDA) decides to issue a recall involving eye drops, but it's now happened twice in the past six weeks or so, and the Land of 10,000 Lakes is once again included in this latest recall.
If you have any eye drops made by the brand Purely Soothing (specifically, the Purely Soothing, 15% MSM Drops) you'll want to toss them out of your medicine cabinet right away. Because they're the subject of this latest recall, due to what the FDA called 'non-sterility.'
And check out this warning the FDA also included in their recall notice:
Risk Statement: Use of contaminated eye drops can result in the risk of eye infections that could result in blindness.
Well, THAT definitely NOT the result one wants when they use some eye drops, right?!? Thankfully, though, the FDA also said they haven't yet received 'any reports of adverse events or illness related to this recalled product.'
The FDA also listed more detail on specifically just which Purely Soothing eye drops are included in this recall:
The eye drop is used as an anti-inflammatory aimed to assist with symptoms of ocular irritation and/or swelling and is packaged in white, cylindrical HDPE bottles.
The eye drops (LOT#: 2203PS01, 1 oz, UPC 7 31034 91379 9; and LOT#: 1808051, ½ oz, UPC 7 31034 91382 9) have eye dropper caps and white lids. The product can be identified by the labels below.
While those drops are the only Purely Soothing eye drops included in this recall, any recall isn't good news for the parent company. Hopefully, they won't be too affected-- unlike the once-popular products below which are no longer around! Keep scrolling to see which ones YOU remember!
Listen to Curt St. John in the Morning
Weekdays from 6 to 10 a.m. on Quick Country 96.5
LOOK: Things from the year you were born that don't exist anymore
The iconic (and at times silly) toys, technologies, and electronics have been usurped since their grand entrance, either by advances in technology or breakthroughs in common sense.
See how many things on this list
trigger childhood memories—and which ones were here and gone so fast you missed them entirely.