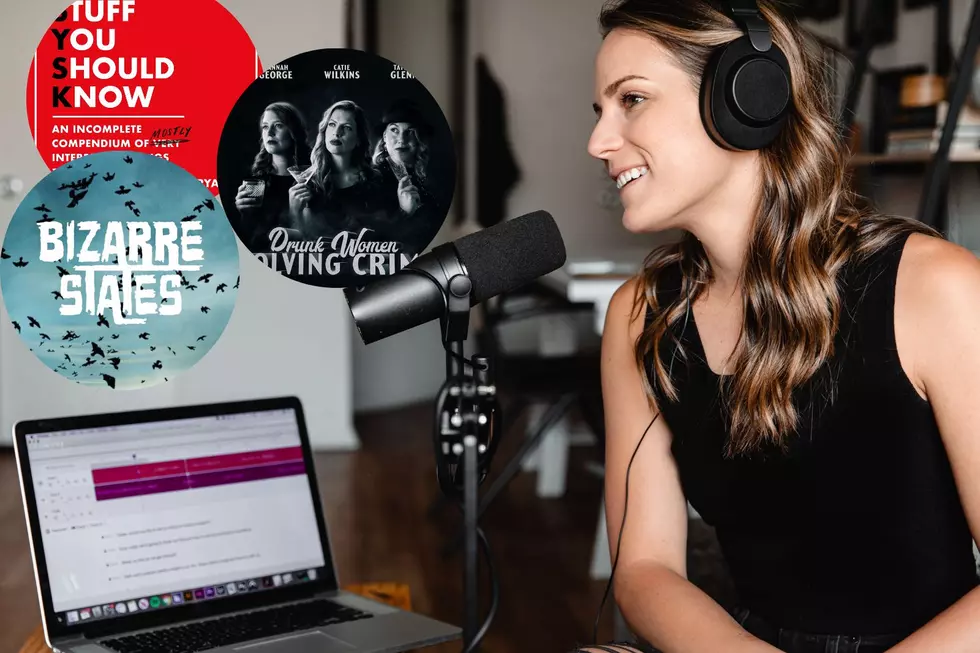 Minnesota Woman Shares 7 Unique Podcasts That Will Make You Go Hmmm
Photo by Soundtrap on Unsplash. podcast covers credited to us.macmillan.com and Macmillan Audio, Acast (play.acast.com), and Audacy.com
Today is National podcast day, and in celebration to help share about the storm taking over that is podcasts, I have for you some of the best and weirdest podcasts for you to try!
So I wanted to see and share the most unique and interesting podcasts because there is literally a podcast for everything! After doing a little research here is a couple, I think, are the most interesting that you need to check out (credited to whatpods.com and timeout.com).
Bizarre States
Whatpods.com explains that Bizarre States is where interesting meets funny. Two American hosts chat and joke their way through some weird topics. It is noted that "from the Legend of The Winchester Mystery House to spontaneous human combustion, no gross and grisly topic is spared from the pair's dry and relentless wit."
99% Invisible
I saw this one mentioned on many sites, so I knew I had to include it. Whatpods.com explains that the host, "Roman Mars takes an interesting topic you've probably never thought much about and crams as much information about it as he can into a podcast episode that runs for less than 30 minutes."
Stuff You Should Know
Just when googling interesting podcasts, this is the first one to show up. The two hosts, Josh Clark and Chuck Bryant provide "a never-ending catalog of interesting yarns spun by two regular dudes who read a lot, talk a lot, and teach a lot," states whatpods.com. Each episode is essential a random topic that the two pick and talk about and the possibilities are just endless.
Lore
Whatpods.com put this as their #2 podcast of all time and after reading about it, I might just become a listener myself. It is explained by the article that the podcast focuses "on the mysterious and darker side of our human history," where host Aaron Mahnke covers a story and the truth turns out to be more frightening than fiction.
Just The Gist
If you want a good story told in a charming and entertaining way, but doesn't mull over the little details then you need to listen to this podcast. As explained by timeout.com, host comedian Rosie Waterland and co-host Jacob Stanlkey, get to the "nut of true-crime sagas, conspiracy theories, celebrity gossip, and history's most interesting people without getting too into it."
Drunk Women Solve Crimes
Everyone loves a true Crime podcast but, let's make it more interesting, shall we? In this podcast, you join writer/comedian hosts Hannah George, Catie Wilkins, and Taylor Glenn as they "welcome top guests from comedians to crime writers to test out their drunk detective skills," as explained on their website. Each episode contains the tipsy group tackling crime stories and possibly solving some cases!
Decoder ring
The last one I will be going over is Decoder Ring. Journalist Willa Paskin examines either one item, habit, or cultural question in each episode. What is interesting about this one is Paskin goes over so many interesting topics and dives deep into each of their rabbit holes. Timeout.com explains past episodes like "why do gay people love Judy Garland so much? Who is afraid of Bart Simpson? How do you start a conspiracy theory?"
While these are the only ones I wanted to share with you, both whatpods.com and timeout.com have many more to share that cover many genres including cooking, comedy, history, pop culture, and more! All credit goes to each article.
Top 10 SE Minnesota Restaurants for Pancakes
Everyone knows the big ones, the Perkins, the Denny's, the Canadian Honker, Grandmas...but how 'bout some batter from off the beaten path? Try 'em out and let me know what you think here:
james.rabe@townsquaremedia.com