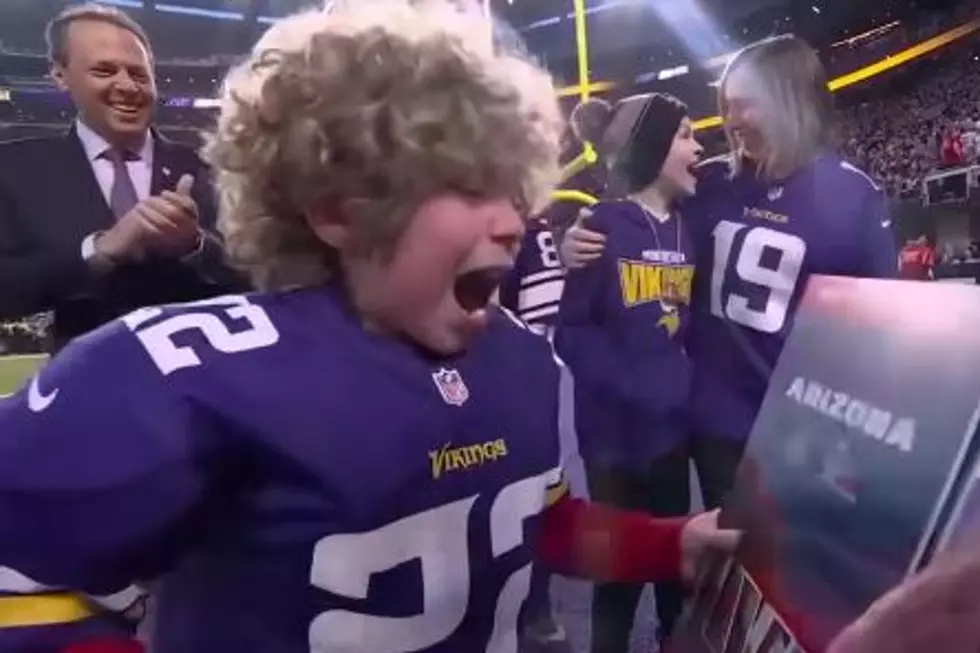 NFL Commissioner Makes Young Minnesota Vikings Fans Year With Super Bowl Tickets
Fox/Facebook
A SUPER SURPRISE
The most adorable boy at the Vikings Game yesterday received something that made him absolutely lose his mind, and the best part is he's overcome some pretty incredible odds to have this exciting moment.
MEET CHARLIE
Charlie Huizinga, a young boy battling Leukemia, was awarded Super Bowl 57 tickets on the sidelines of Sunday's Vikings Game at US Bank Stadium. Roger Goodell, Commissioner of the NFL, had the pleasure of giving Charlie the big announcement, complete with poster-sized tickets to the big game.
THE MOMENT
The moment was incredibly touching, as Charlie realized what was placed in front of him. There were many many comments thanking the Commissioner for doing such a kind act for this young boy and comments about how people were sad that Charlie wouldn't be able to see his favorite team play in the Superbowl.
By the look on Charlie's face, I would say that whoever ends up in the SuperBowl, he'll end up having a great time with his family.
Although most people were ecstatic for Charlie, they didn't hold back their feelings about the Commissioner, and as always, there are non-Vikings fans rearing their ugly heads:
'The ONLY good thing Roger has done at his job as Commish.'
'Now this is what sports are' about.'
'12 years later, he makes the NFL.'
'Enjoy the Superbowl young man..May God bless you.'
'Love this...The smile on his face says it all.'
'That's awesome. Sad he won't see the Vikings there.'
'Great stuff. Just had a cousin pass from Leukemia this week...She just couldn't make it. She was a great person. Come on Buddy! You can do it. Come on Bone Marrow!'
See the video of his exciting moment below.
<iframe src="https://www.facebook.com/plugins/video.php?height=314&href=https%3A%2F%2Fwww.facebook.com%2FNFLonFOX%2Fvideos%2F878557103464772%2F&show_text=false&width=560&t=0" width="560" height="314" style="border:none;overflow:hidden" scrolling="no" frameborder="0" allowfullscreen="true" allow="autoplay; clipboard-write; encrypted-media; picture-in-picture; web-share" allowFullScreen="true"></iframe>
This $1 Million Home in Sartell Has an Indoor Basketball Court
Cozy Up at This New Coffee Shop in Long Prairie
Ghost Towns of Benton County