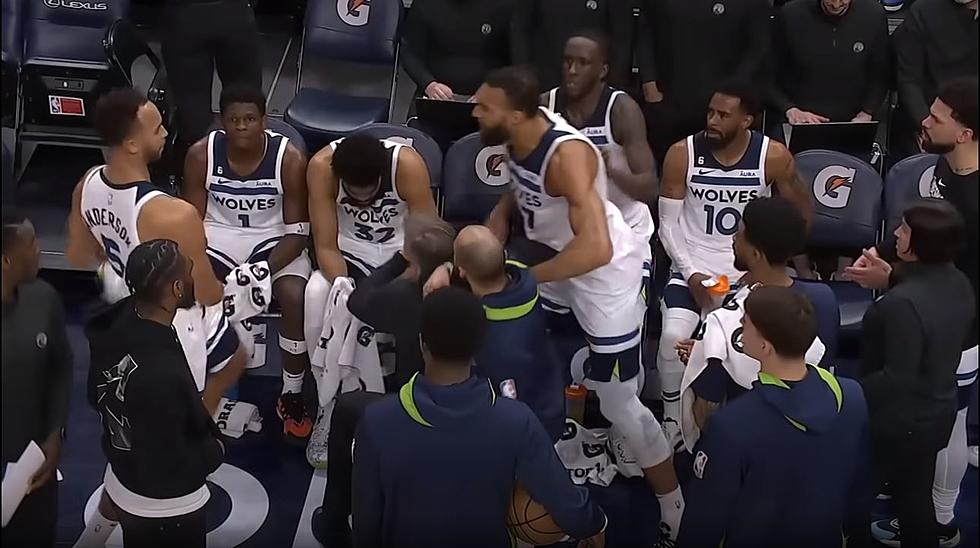 WATCH: Minnesota's Gobert Swing At His Teammate + More Timberwolves Drama
Bleacher Report via YouTube
The Minnesota Timberwolves were in the middle of an important game when one of their star players Rudy Gobert got sent home.
The Timberwolves are on their way to a Play-In game this upcoming week to stay alive for the playoffs. If you didn't know, the NBA now does a Play-In Tournament that takes teams that finish seventh - tenth and they play for the seventh and eighth spot in the playoffs.
I understand it seems like a weird idea. I'm still stuck on the regular season being the regular season and if you finish seventh, then you make the playoffs. However, I'm no basketball expert so what do I know.
The T-Wolves took on the New Orleans Pelicans in the final regular game of the season.  There was a lot on the line (Play-In seeding) so tensions were high. Star player Rudy Gobert who was traded to the team this year seemed to have got himself into a heated argument with a teammate. Gobert was caught on camera swinging at Small Forward Kyle Anderson:
Gobert was then sent home, not to return to the game. Luckily, the T-Wolves came back and beat the Pelicans with a final score of 113 -108. Whatever the situation was, it didn't look good. Gobert took to social media later to apologize.
NBA Insider Woj was quick to find an explanation for the altercation:
It also didn't take long for ESPN to find some "receipts" from what Gobert said about Warriors star Draymond Green last year:
To make things worse for Minnesota, forward Jaden McDaniels left the game after becoming upset and punching a wall.
Here are the NBA Playoff West Conference Playoff seedings:
Denver Nuggets (1) taking on 8 seed
Phoenix Suns (4) vs Los Angles Clippers (5)
Sacramento Kings (3) vs Golden State Warriors (6)
Memphis Grizzlies (2) vs number 7 seed
The Play-In Tourney begins April 11th, 2023. The Lakers will take on the T-Wolves with the winner facing Memphis in the playoffs. The loser of the game will play the winner of the Pelicans and the Oklahoma City Thunder to determine the 8 seed and will play Denver.
Again, I'm not sure why the Play-In is a thing, but hopefully, the T-Wolves can turn it around quickly. Now is not the time to implode.
Ten Odd NBA Mascots That Don't Match The Team Names
Kevin Garnett Through The Years