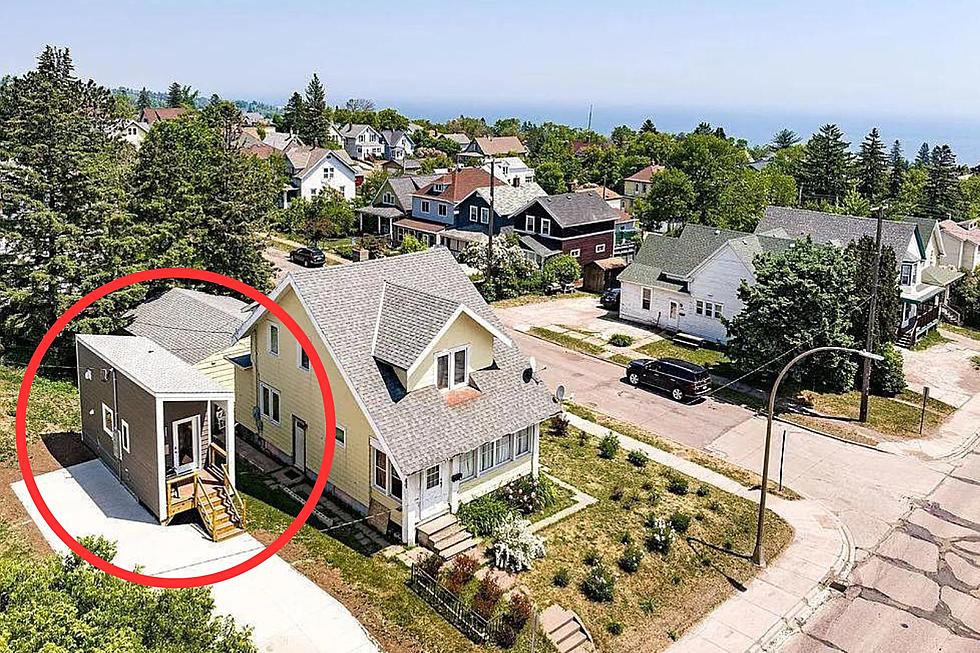 OMG! Peek Inside Duluth's New Tiny Home For Sale
Lake Superior Area Realtors, MLS#: 6108877
Well, this might be the cutest thing ever! There is a tiny home for sale in Duluth and it is not only eco-friendly but it is also brand new. There's a lot to take in with this cute home so let's go on a little tour, shall we?
This home just hit the market this week and is located at 804 N 6th Avenue E. It is located next to a larger home on the corner, complete with your own parking space and a cute front porch. This might be the best home ever. It could be yours for $195,000.
The home is technically one bedroom and one bathroom. It has a washer and dryer and a modern layout and kitchen. There's even a built-in desk area right off the kitchen when you walk in the door! It has a large loft area as well with lots of natural light.
What surprised me most about this tiny home is how modern it is. It is modern fixtures and comes in at just over 200 square feet. According to its Zillow listing, the home was built with sustainability in mind while still being convenient.
This cute little home is also move-in ready. You literally just have to pack your suitcase and move right in! It also has more space than you would think living in a tiny home. Where else can you live in a tiny home? If you're going to do it anywhere, it makes the most sense to do it in Duluth, a place made of adventure. Take a look inside this home below:
Tiny Home Living! Inside Duluth's 205-Square-Foot Home For Sale
Breathtaking Views Of Both Lake Superior + The Bay Await From $1.395 Million Park Point Listing
Breathtaking Views Of Both Lake Superior + The Bay Await From This $1.395 Million Listing On Duluth's Park Point
Living on Duluth's Park Point is truly a unique experience. Not everyone can say they cross over a landmark like the Aerial Lift Bridge to get to their home, sitting steps away from the beach and Lake Superior.
Recently, a standout property on Park Point
went on the market
for $1.395 million. The 2,400 square-foot home was built in 2003 and features 4 bedrooms, 4 baths, and a gourmet eat-in kitchen that comes complete with a gas range, and countertop seating.
While the inside of the home is beautiful, what's even more amazing is the views this property provides. Take, for example, the large living room which has a vaulted ceiling, a stone fireplace, and wall-to-wall front windows with views of Lake Superior, the sandy beach, and the City lights. It's truly breathtaking.
Meanwhile, the sunroom and deck provide terrific views of the Bay. The Park Point property is rare in that you'll be able to get great views of both Lake Superior and The Bay.
Take a look through 3917 S. Lake Avenue, located on the beach side of Duluth's Park Point.