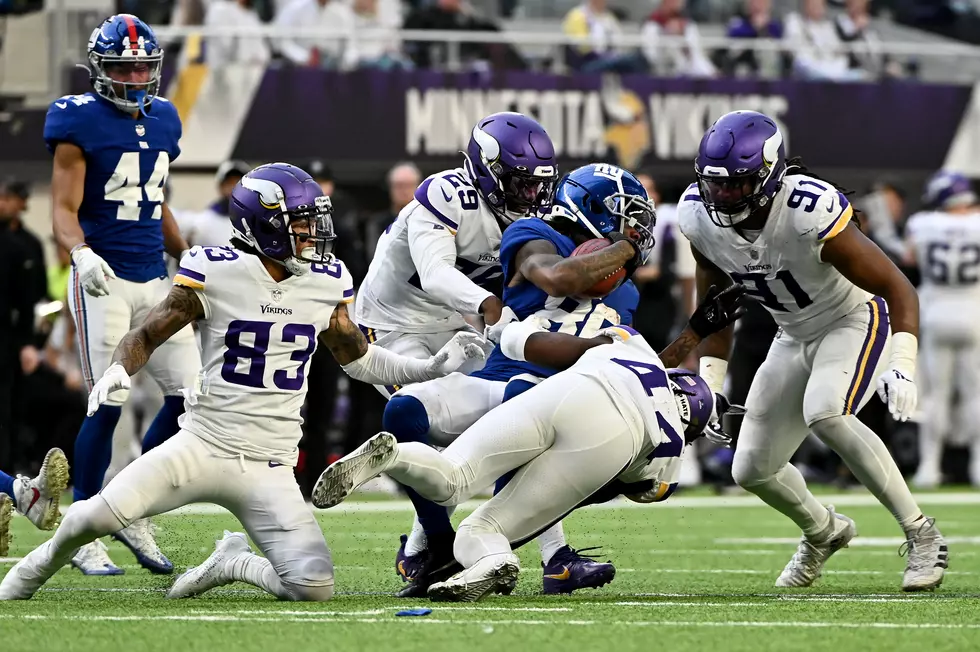 Playoff Preview, Vikings Host Giants Today in Minneapolis
Getty Images
The Minnesota Vikings look to build on their 13-4 regular season record when they host the New York Giants in a Wild Card Weekend NFC playoff matchup this afternoon at U.S. Bank Stadium.
The Vikings wrapped up the regular season last Sunday with a 29-17 win against the Bears in Chicago. The Giants spent last Sunday in Philadelphia, falling to the Eagles 22-16.
The Vikings and Giants met less than a month ago when Minnesota beat New York in Minneapolis 27-24 on a 61-yard field goal as time expired.
Vikings Head Coach Kevin O'Connell said the team has a good balance of players with postseason experience and those getting their first taste of the playoffs.
I've relied on our leadership. A lot of those guys, many of them with this team or with some other teams that they've been with. We've got some other coaches that can just explain — I think it's very important that they explain how important one week of preparation is — and do not worry about anything else beyond this Sunday and understand it's going to take everything we've got.
Injury Report
For the Vikings, cornerback Cam Dantzler (personal matter), safety Harrison Smith (knee), and running back Kene Nwangwu (illness) are all listed as 'questionable' for today's game.
No players are listed on the Giants' injury report.
Matchup History
The Vikings and Giants have only faced each other 30 times in the regular and postseason, with Minnesota holding a slight lead in the all-time series 18-12. The Giants won their last playoff matchup back in 2001 when New York stunned Minnesota 41-0 at Giants Stadium.
The Odds
The Vikings are 3 point favorites against the Giants today.
Tickets
There are still tickets available for today's game. Given the high demand, the Vikings encourage fans to purchase tickets directly through the Vikings website or Ticketmaster.com.
The Broadcast
The game is set to kickoff at 3:30 pm CT. (TV: FOX)
10 LIES MINNESOTANS TELL THEMSELVES
Sure, they're lies...but they also point to a fundamentally positive attitude about our lives in the greatest state in the nation (that just happens to have air that'll hurt your face).