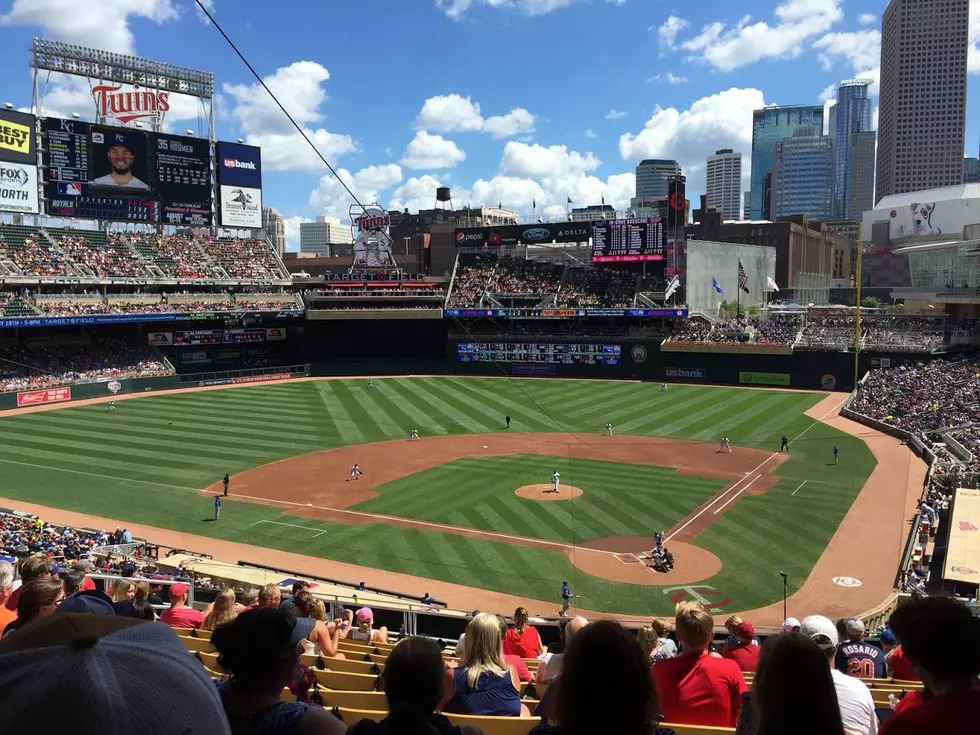 Target Field Features 4 New Food Vendors for 2021
Target Field in 2018. (CSJ/TSM-Rochester)
Seeing as its Opening Weekend for your Minnesota Twins, here's a look at what's new when it food and drink vendors at Target Field this season.
Even though Major League Baseball DID get an abbreviated season in during 2020, the pandemic drastically shortened the number of games each team played. And, of course, there weren't ANY fans allowed at Target Field or any other ballpark last year.
That's why it's so nice to see the excitement of a regular-season home opener return to Minnesota this year. Okay, it's not exactly the same as a home opener at Target Field would be during a regular year, but at least fans are allowed to watch the Twins in person this year. The Twins say the entire weekend is sold-out, which means there will be about 10,000 fans in attendance for each game, the most allowed during the state's 25-percent capacity order in effect in Minnesota right now.
So in case you have tickets and are heading up to take in a game in person this weekend, or later this summer (like I hope to do), the Twins released a list of four new food and drink vendors who'll be up and running at Target Field here in 2021.
Gray Duck Deck: Located in the area adjacent to the left-field foul pole inside Gate 6 (the former Barrio space), this open-air bar will feature signature drinks from the homemade Minnesota brand.
Jack Daniel's Bar and Schneiderman's Lawn: Featuring signature cocktails from the world's top-selling American whiskey, the new 5,600-square-foot Schneiderman's Lawn provides weather-resistant furniture such as Adirondack chairs, wooden tables and benches, high-top bar tables and swivel chairs.
 Summit Brewing Pub: Located down the left-field line of the club level (the former Goose Island Pub space), this space will provide fans with the taste of one of Minnesota's most beloved craft breweries.
Truly On Deck:  The formerly named Bat & Barrel will continue providing fans with state-of-the-art video elements and signature food and beverage options, now with the added flavor of Truly Hard Seltzer.
The Twins also point out that you'll need to order your food and drink on the MLB Ballpark app. You'll then get a notification when your order is ready to be picked up from designated "grab-and-go" stations. You won't be allowed to eat or drink anything until you get back to your seat. And, the only payments allowed this year will be electronic-- credit, debit or digital wallet payments-- cash won't be accepted.
I've always been a big baseball fan, so it's great that the Twins are back in action for the 2021 season. And, like most of us, I've been following the Twins (and my home state Milwaukee Brewers) since I was a kid. If you have too, take a walk down memory lane and check out how the Twins'-- and other Minnesota teams' logos-- have changed throughout the years!
Listen to Curt St. John mornings from 6 to 10 on Quick Country 96.5
and from afternoons from 2 to 6 on 103.9 The Doc
CHECK IT OUT: The Evolution of Minnesota's Pro Sports Team's Logos