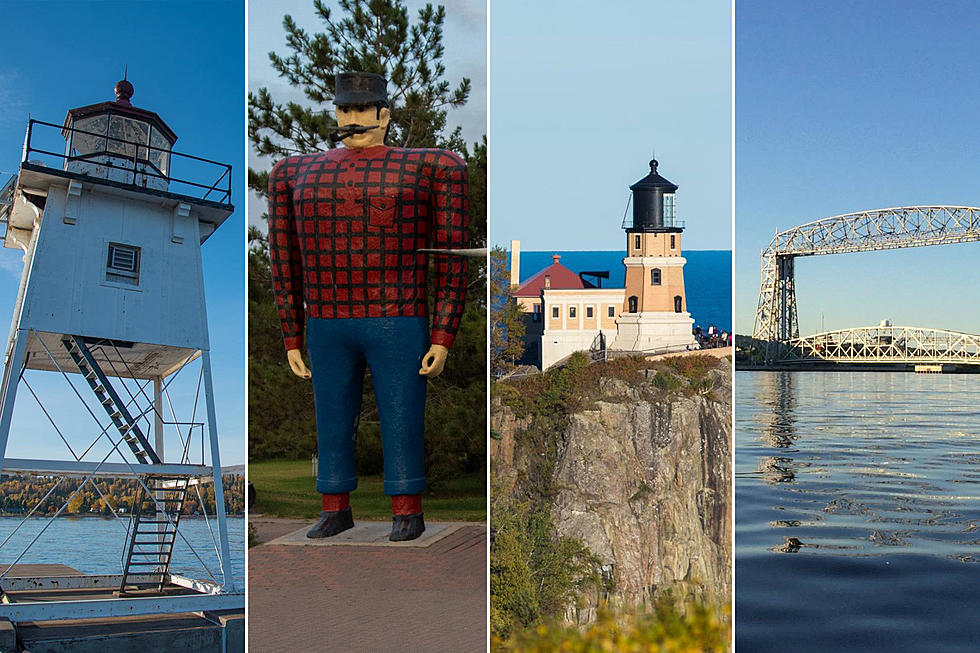 Three Minnesota Routes Named Among Best Road Trips In U.S., But The Descriptions Are Hilariously Inaccurate
Nick Cooper - TSM Duluth
Three Minnesota routes were named among the 100 best weekend road trips in the United States by a survey published by a Florida car dealer brand. That's pretty cool, right? The thing is, the beautifully-crafted descriptions of each of these routes include some painfully obvious errors for anyone that's familiar with the Land of 10,000 Lakes.
The list of these 100 best weekend road trips in the United States was published by Florida car dealer company Gunther Motor Company, highlighting the most popular weekend road trip routes, as identified by 3,000 respondents in a May 2023 QuestionPro survey. Of those 100 weekend road trips, three of them are in Minnesota.
That's pretty cool! There are some absolutely incredible weekend road trip routes in Minnesota that offer great scenery across Minnesota's diverse landscape. Heck, I even identified some quick day trip road trip ideas a few years ago from my home base of Duluth, just as an example.
While I am kind of surprised by the three routes identified in this survey (I'd argue there are some better ones to pick from), I won't argue with their survey data. What I will take a bit of an issue with is the descriptions they offered for each of Minnesota's routes.
I am not sure if the car dealership company themselves crafted the information, if the people behind the survey did, whether it was written by a person or artificial intelligence, but there are some pretty significant discrepancies with what you'd actually see along these routes when compared to what was written about them.
Duluth to International Falls via U.S. Route 53 (#31 on the list)
Ranked 31 on the list of best weekend road trips in all of the United States is a road trip along US Highway 53 from Duluth to International Falls. While I can't say I know a ton of people that road trip between these two places, there is plenty to see along the way.
The Duluth end of that route has a lot to offer, there are some neat things to see along the way on the Iron Range, and Minnesota's only national park - Voyageurs National Park is on the International Falls end of this route. That all sounds like a good time! The thing is the route, as described, is not the route the title suggests.
Here's the description they provided:
The state of Minnesota's Duluth to International Falls via U.S. Route 53 road trip was voted as America's 31st favorite weekend road trip. As you embark on this adventure, you'll witness the transition from the bustling city of Duluth to the serene landscapes of Northern Minnesota.
The route takes you through charming towns, dense forests, and scenic lakeshores, offering breathtaking views and opportunities for outdoor exploration. Along the way, you can visit attractions such as the North Shore Scenic Drive, renowned for its stunning views of Lake Superior and the iconic Split Rock Lighthouse.
As you continue north, you'll pass through the picturesque town of Ely, known as the gateway to the Boundary Waters Canoe Area Wilderness, where you can enjoy outdoor activities like canoeing, fishing, and hiking. Finally, you'll reach International Falls, located on the Canadian border and often called the "Icebox of the Nation," famous for its stunning winter landscapes and outdoor winter sports.
Did you notice anything off about that description? Here are some highlights I caught:
The mentions of the North Shore Scenic Drive and Lake Superior are cute and all, being you'll see that while you're in Duluth, but as soon as you head over the hill, they're out of sight.
Split Rock Lighthouse is, at its closest, about 50 miles away as the crow flies from this route, pretty out of the way if you're sticking to Highway 53 as the route. By car, it's a pretty substantial little detour.
You don't pass through Ely (even though their description literally says you do). As the crow flies, that's about 40 miles away from the route, and another sizable detour.
If you're doing a weekend road trip, I could see making some side trips to see these locations, but why not add some of the cool mining history landmarks in the heart of the Iron Range (which you literally drive through), identify some of the other items in Duluth, highlight the Greyhound bus museum in nearby Hibbing or the US Hockey Hall of Fame in Eveleth, or mention something about Lake Vermilion, which you pass fairly close to, or some of those other items, too?
Minneapolis to Grand Marais via U.S. Route 61 (#74 on the list)
How is this #74? Nothing against the drive between Duluth and International Falls, but some of the absolute best views in the state are along this route (even though they identified a few of them in their Duluth to International Falls description).
Here's how they described this route:
And the Minneapolis to Grand Marais via U.S. Route 61 weekend road trip was rated as the 74th best nationally. Starting in Minneapolis, a vibrant city known for its arts scene and picturesque lakes, you'll venture northeast on U.S. Route 61, also known as the North Shore Scenic Drive.
As you drive along the shores of Lake Superior, the world's largest freshwater lake, you'll be treated to stunning views of the rugged coastline, towering cliffs, and pristine beaches. Along the way, you can make stops at charming towns like Duluth, where you can explore the famous Aerial Lift Bridge and Canal Park, or Two Harbors, known for its historic lighthouses and scenic harbor.
The journey also takes you through the heart of the Superior National Forest, a vast wilderness offering opportunities for hiking, camping, and wildlife spotting. Arriving in Grand Marais, a picturesque harbor town nestled between the lake and the forest, you can enjoy the serene beauty of Artists' Point, visit the historic lighthouse, or indulge in local cuisine.
First, I did get a chuckle about how about half of the route to Grand Marais is omitted. Sure, there isn't a ton of particularly spectacular scenery along I-35 between Minneapolis and Duluth, but there are some cool things to do and see. If you also enjoy more rural scenery, there are alternative ways to get from Minneapolis to Duluth, before you start your journey on the "Route 61" they refer to.
Site note, U.S. 61 through Southeastern Minnesota is also a cool road to travel. It just isn't the "Route 61" they're referring to in their description.
They hit more of the mark with this description, but how on earth could they forget the waterfalls? People travel from far and wide to see Gooseberry Falls, the waterfalls at Temperance River, and a bunch of others.
Rochester to Bemidji via U.S. Route 52 and 10 (#79 on the list)
The final Minnesota route on the list is also the longest one on the list (over 300 miles, depending on the route). They sort of omit the final stretch of the trip, which veers off U.S. Highway 10 at some point (either Little Falls, Motley, or Wadena) to head north, because Highway 10 heads to Fargo.
Here's their description:
In 79th place was Rochester to Bemidji via U.S. Route 52 and 10, known for its renowned Mayo Clinic and vibrant downtown, you'll embark on a scenic drive through the rolling hills and picturesque countryside of southeastern Minnesota. As you follow U.S. Route 52 northward, you'll pass through quaint towns like Zumbrota, Cannon Falls, and Red Wing, each offering their unique attractions and historical sites.
Red Wing, in particular, is famous for its pottery and scenic bluffs overlooking the Mississippi River. Continuing your journey, you'll traverse the expansive farmlands and small communities of central Minnesota, where you can witness the region's agricultural heritage and perhaps make a stop in towns like St. Cloud or Little Falls.
As you approach Bemidji, the landscape transforms into a scenic tapestry of lakes, forests, and rolling hills, showcasing the natural beauty of northern Minnesota. Bemidji, located on the shores of Lake Bemidji, is a vibrant city with a rich Native American and logging history, and it's home to iconic landmarks such as the Paul Bunyan and Babe the Blue Ox statues.
While there aren't any massive geographical fails in this description (aside from the final road you'd need to take to actually get to Bemidji), Red Wing is a bit of a detour, about 20 miles as the crow files from the route in southeastern Minnesota. Absolutely worth a detour though! Lots of neat stuff to see right along the Mississippi River!
They missed out on an opportunity to call out the childhood home of Charles Lindbergh, located further up the Mississippi River in Little Falls as a neat stop along this route. His home is part of a state park right along the river dedicated to the famed pilot.
With the recurring theme of the Mississippi River, the writer (or A.I. bot) that wrote their description missed out on the chance to see the headwaters of the Mississippi! If you follow U.S. Highway 10 to U.S. 71, you'll head through a changing landscape that evolves from farmland to forests, with Itasca State Park along the route, just about 30 minutes south of Bemidji.
Seeing Lake Itsasca and the Mississippi Headwaters seems like a great addition to this road trip that routes you so near this landmark before arriving in Bemidji, the home of one of a few Paul Bunyan-themed statues in the area.
Coincidentally, you could see another Paul Bunyan statue in Akeley, which is on Minnesota 64, another route you could take from U.S. 10 to Bemidji - or you could see Paul Bunyan's girlfriend, Lucette, in the form of a 17-foot statue in Hackensack along Minnesota 371, another route to get from U.S. 10 to Bemidji.
Best Day Road Trips From The Twin Ports Area
Things You'll Never Hear Someone In The Twin Ports Say In The Springtime