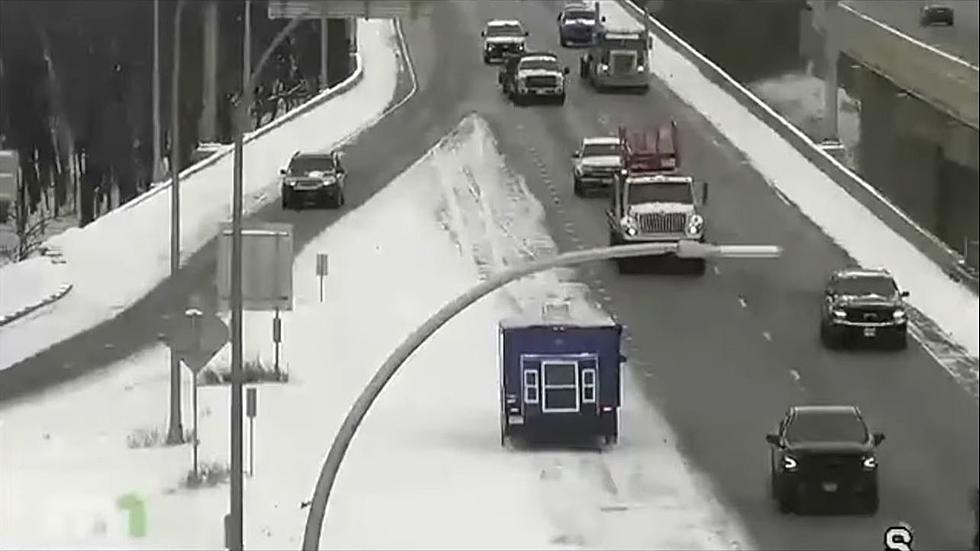 WATCH: Minnesota Truck Tows Fish House The Wrong Way On The Snowy Road
Bring Me The News via YouTube
In a time where there have been many spinouts and crashes due to the weather conditions in Minnesota, one truck towing a fish house takes the cake when they were driving down the wrong way on the highway.
Minnesota Department of Transportation caught the incident on their traffic cameras, then Bring Me The News shared it on YouTube. The incident happened on Wednesday (2/22/23) during the afternoon on Highway 169 near the Bloomington and Eden Prairie border.
The truck did have its hazard lights flashing, and I thought the traffic did a good job slowing down. But what a crazy sight to see. It instantly reminded me of the scene from the greatest Thanksgiving movie of all time, 'Planes, Trains, and Automobiles' (heads up, there is language in the clip below):
The truck eventually held up traffic once more by taking a left turn at the nearby exit ramp. According to BMTN, There were a few state troopers that were able to find the truck to initiate a traffic stop.
MN Crime also tweeted out the video with comments from followers like "There are no lakes on 169", "please tell me he was cited and pulled off the road", "I wonder what percent of MN drivers now they're being recorded full time on all freeways", and "ALWAYS remove your ice house during a blizzard".
You can check out the video of the incident below:
Please be careful while driving, especially during a snowstorm, and always keep your head on a swivel.
10 Major Winter Weather Events In Northland History
Twin Ports Roads To Avoid In The Winter