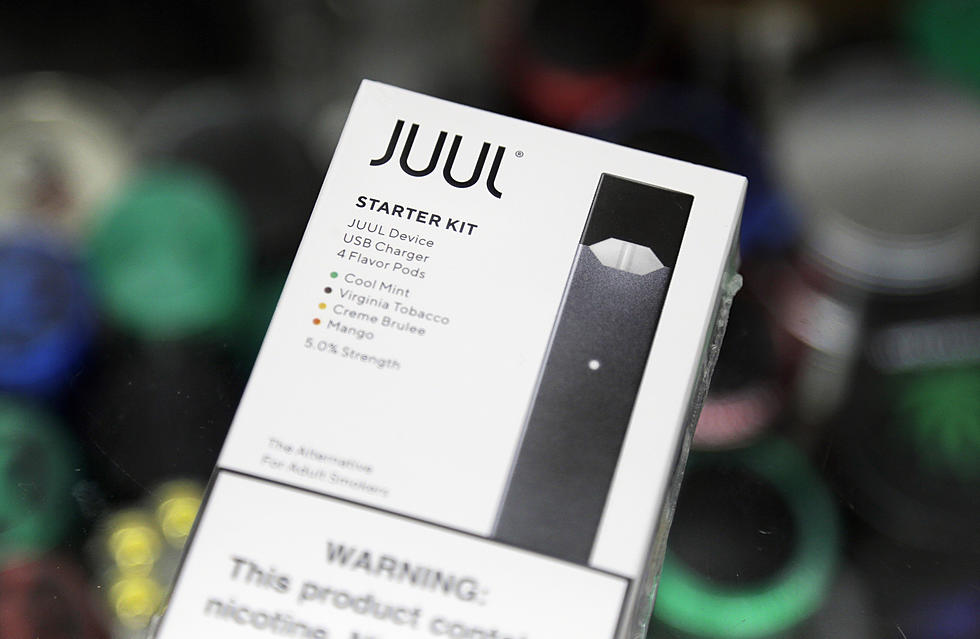 $100 Million Minnesta V. Juul Lawsuit Trial Begins
(AP Photo/Seth Wenig, File)
MINNEAPOLIS (AP) — Minnesota Attorney General Keith Ellison personally opened his state's case against Juul Labs on Tuesday, accusing the e-cigarette maker of using "slick products, clever ads and attractive flavors" to hook children on nicotine as the first of thousands of cases against the company reached trial.
Minnesota is seeking more than $100 million in damages, Ellison said, accusing Washington, D.C.-based Juul of unlawfully targeting young people to get a new generation addicted to nicotine. The court seated an eight-woman, four-man jury Tuesday morning and Ellison gave the state's opening statements in the afternoon.
"They baited, deceived, and addicted a whole new generation of kids after Minnesotans slashed youth smoking rates down to the lowest level in a generation," Ellison said. "Now, big tobacco is back with a new name but the same game. Juul wiped out the work of our state with their slick products, clever ads, and attractive flavors."
Juul has faced thousands of lawsuits nationwide but most have settled, including 39 with other states and U.S. territories. Not Minnesota, which won a landmark $7.1 billion settlement with the tobacco industry in 1998. Minnesota added tobacco industry giant Altria, which formerly owned a minority stake in Juul, as a co-defendant in 2020.
Altria completed its divestiture this month and says it effectively lost its $12.8 billion investment. But it didn't abandon e-cigarettes: Just a few days later, Altria announced a $2.75 billion investment in Juul's rival, the vaping company NJOY.
In his opening statement, Ellison argued that Juul and Altria broke the law by using deceptive actions to sell tobacco products to minors. The companies purposely made their products small and sleek to make detection by adults difficult, used large amounts of nicotine to addict children, added flavors that would appeal to young people and used a marketing campaign they knew would appeal to teens, Ellison said.
"Young people are innocent, and they want to explore," Ellison said. ""Kids are attracted to what is shiny, slick, cool — and that is exactly who Juul and Altria were targeting and preying upon."
Ellison has said he plans to hand the case over to attorneys for two outside law firms after delivering part of the opening statements.
The jury trial before Hennepin County District Judge Laurie Miller is expected to last about three weeks. The trial over the lawsuit by the state and Blue Cross and Blue Shield of Minnesota lasted nearly four months before big tobacco companies settled, just ahead of closing arguments.
That case forced the release of millions of pages of previously secret industry documents that expanded America's understanding of how the tobacco industry tried to conceal the addictive nature of its products. Part of the $7.1 billion supported anti-smoking programs, but Juul and Altria have noted in court that lawmakers spent much of it to fund state government.
The 2019 lawsuit against Juul alleges consumer fraud, creating a public nuisance, unjust enrichment and a conspiracy with Altria that "preyed upon and enticed Minnesota's children, through deceptive and illegal tactics, to buy a product that may sentence them to a lifetime of nicotine addiction and other destructive behaviors."
The state's brief said Juul's marketing was designed to ensnare children by attracting "cool kids" and using social media and celebrities to act as "pushers" of its addictive products. "Defendants claim their conduct was in the name of helping 'aging smokers' to stop smoking. That claim is false; it is a smoke screen," it said.
Juul said Minnesota's insistence on going to trial has deprived its citizens of some of the nearly $440 million in settlement money other states are using to reduce tobacco use.
"Effective interventions to address underage use of all tobacco products in Minnesota, including vapor, depends not on headline-driven trials, but on evidence-based policies, programs, and enforcement," Juul's statement said.
Richmond, Virginia-based Altria Group — which makes Marlboro cigarettes and other tobacco products and was formerly known as Phillip Morris Cos. — said it bought a 35% stake in Juul Labs in 2018 only after Juul assured Altria "and announced to the world" that it had made meaningful changes to its marketing.
Juul Labs launched in 2015 on the popularity of flavors like mango, mint and creme brulee. Teenagers fueled its rise, and some became hooked on Juul's high-nicotine pods. Amid a backlash, Juul dropped all U.S. advertising and discontinued most of its flavors in 2019, losing popularity with teens. Juul's share of the now multibillion-dollar market has fallen to about 33% from a high of 75%.
Juul is now appealing the Food and Drug Administration's rejection of its application to keep selling its vaping products as a smoking alternative for adults. Juul is still being sued by New York, California, Massachusetts, New Mexico, Alaska, Illinois, West Virginia and the District of Columbia.
LOOK: What major laws were passed the year you were born?
Data for this list was acquired from trusted online sources and news outlets. Read on to discover what major law was passed the year you were born and learn its name, the vote count (where relevant), and its impact and significance.