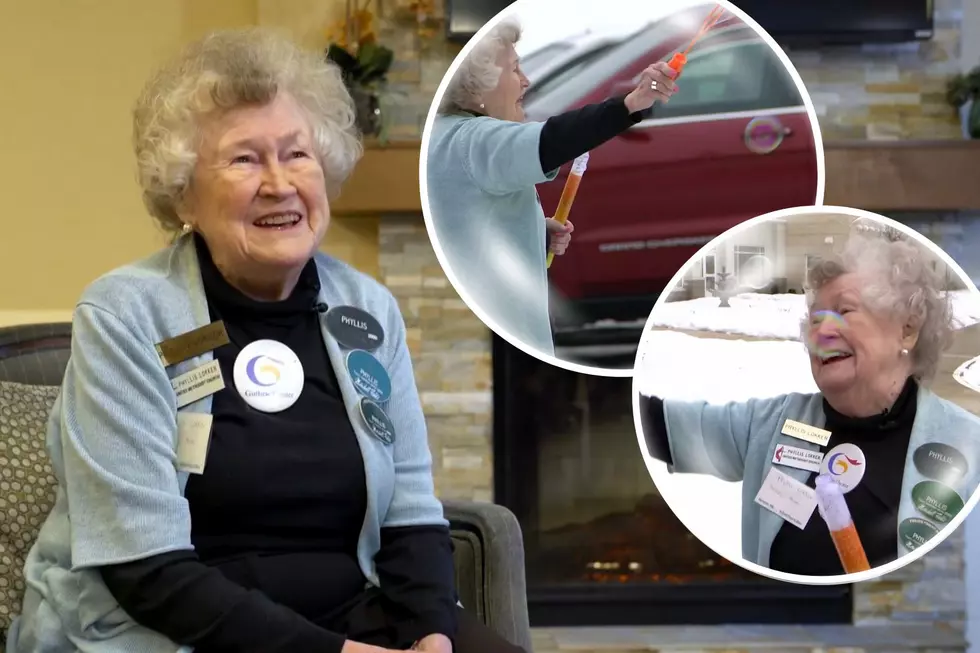 Introducing: The Rochester Woman That Will Never Stop Spreading Happiness
Screenshots of video from kare11.com. Credit to Samie Solina and Kare 11
The winter can be quite tough for many but becomes such a depressing time for some… But not this lady! 89-year-old Phyllis Lokker not only creates happiness in each day for herself but her fellow friends and residents at The Waters on Mayowood in Rochester.
I know for me, I'm so young and I have so much life ahead of me. I have so many things to look forward to and I am able to do so many things right now. However, my depression, like many, gets the best of me when Minnesota winters are in full swing. In addition, I'm at a new stage in life and I sometimes feel lost or as if I'm just monotonously floating through the motions.
But when reading stories or meeting people like Phyllis, I am once again inspired and reminded that life is such a beautiful thing. And it truly warms my heart that there are people like Phyllis. So, I'm here to share how she spreads joy every day to those around her.
Every day, Phyllis Lokker walks outside her senior living community and waves around her bubble wand. That's it! I mean it's so simple it's silly, and that silliness brings a smile to her face and many residents at The Waters on Mayowood.
Kare 11 shares a video and article about Phyllis and her wonderful story. Phyllis explains that the simplicity of going outside and creating bubbles makes her feel like a kid. "I'm not this old lady, I'm a kid again," she exclaims.
"I had this aunt that if you were with her, you were laughing," said Lokker. "She was nothing but fun. But when she was dying, her daughter said, 'Mom, what song do you want sung at your funeral?' She thought she'd say 'The Old Rugged Cross,' 'What a Friend We Have in Jesus.' Instead, she said, 'I'm Forever Blowing Bubbles.'"
And so that is what Phyllis does!
What made me really laugh was when Kare 11 mentioned that Phyllis finds joy in everything partly because she doesn't do anything that doesn't. Lokker shares that "If something isn't fun I don't do it. My husband does it," To which her husband, Carl said "I don't mind doing it. If that's what love is, yes."
Kare 11 explains that "together, she and Carl run the "I'm Okay" program, where they check every door sign on the third and fourth floors to see if their friends turned it over." Which is literally the sweetest thing ever! I mean I really hope when I am older, I have friends and peers like them.
But I think the thing that tugged at my heart the most is when Kare 11 notes Phyllis' laugh can be heard throughout the building and her laugh is something Carl thinks about a lot. "He dreads living a life where he wouldn't hear it."
"I hope I'm the one to go first when I leave this earth," he said. "Because I don't know what would happen if she went first."
And of course, Phyliss shares her look on her funeral:
"When I die, I'm not having a funeral," she said. "I'm having a celebration. And I want my ashes to go in a Dayton's box because I want to go in style." (Note: Phyllis was always happy even when she worked at Dayton's in Minneapolis).
Man, talk about a lovely woman! She really did inspire me today to look at life as a celebration. I hope if there's something you took away from today, it is that life is truly beautiful and we as humans have the power to inspire laughter and happiness in others (and that the world needs more people like Phyllis)!
All information is credited to the video and article from kare11.com.
Top 10 Restaurants in Rochester for Valentine's Day According to Yelp
Valentine's Day is the perfect moment to get dressed up a little bit and just enjoy a night out on the town. If you are looking for a restaurant,
Yelp
actually ranked the favorites and below are the top 10 (according to Yelp) that are perfect for a romantic night out on Valentine's Day.