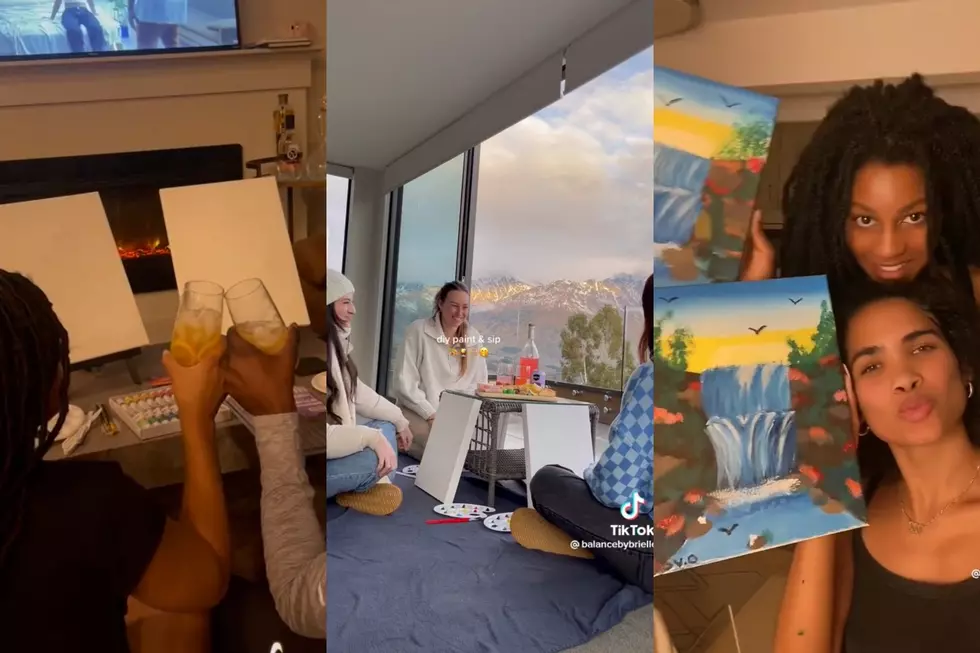 Simple, Easy, and Fun Activity or Date Idea to Try
Photos screenshotted from @imkawanda @oceanvabexel and @balancebybrielle on TikTok
Hey if you are looking for something fun to do with either your best friend, kids, friend group, or your partner, then you need to try this, or do it again! I am talking about a paint and sip night!
What is not to love about painting anything you want and sipping on some wine, some alcoholic or non-alcoholic beverage, there are so many ways you can set up this date plan I mean its endless.
All you need is some sort of canvas board (could be thick or thin from anywhere like Target, Michaels or Five Below), paint and paint brushes (any kind whether that's watercolors or acrylics and again from any store), and a beverage of your choice and you are done!
Now how you go about the activity is totally up to you. You can add any of the following parts to the activity:
All of you sit around at a table and play music while you paint and sip and have fun
You can follow a tutorial video, paint a pre-existing picture, or get creative
You can add in a timer and switch with each other every time the timer goes off (I did this with friends and switched every minute)
You can gift it to each other when you are done, or keep it for yourself
If you are not together you can do complete the activity while you facetime
I mean with these ideas and many more for you to come up with, the possibilities are endless. And it can be for everyone too! You don't have to have wine as the drink, you can all have hot cocoa or something if you are doing with younger friends and family. You can also make it as causal as you want or go all out. There are also places where you can do this too! just google paint and sip places near me!
I have done this a couple of times but each time I have done it differently with different people. I first came about it on a TikTok, but I have done it with my dorm floor in college, and my friends as an activity, and I might do it on a date! No matter who I do the activity with or how I have always had fun and feel that it is a great activity now that it is cold outside.
Wanna Do Brunch In The Twin Ports, Here is Where To Go
Looking for a great spot for weekend brunch with friends and family, check out one of these great places.