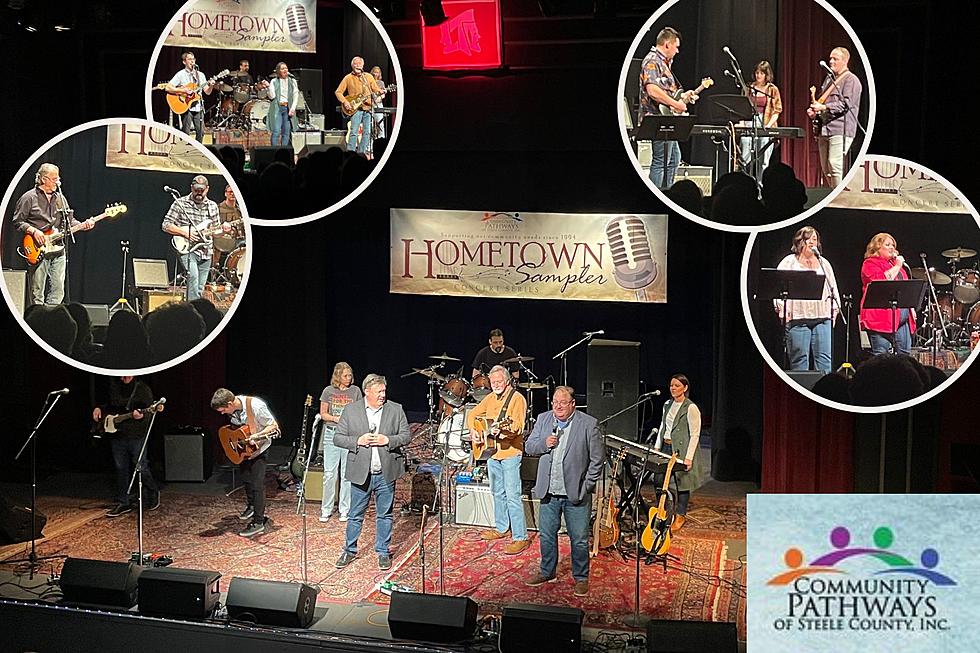 Steele County's Hometown Sampler Reminds Us How Generous The Community Is
Photos by Kinsey
What a big weekend it has been for Owatonna!
Owatonna held the Hometown Sampler on the LTO stage for the 29th year this year, and raised an enormous donation for Community Pathways!
The Hometown Sampler is at the beginning of March every year to help Community Pathways kick off March Foodshare Campaign. As you probably know The Sampler is the community's way to not only support Community Pathways but to celebrate a weekend full of music and fun from local bands.
I was able to attend Friday's show, and boy, it did not disappoint the anticipation Dom Korbel, Executive Director of Community Pathways, built up for me.
The night was filled with amazing music from many talented people and bands. Starting with Turn the Page, then Bad Tangerines, The Gogs, and ending with Mile 5.
Turn the Page kicked the night off right with some awesome music and to my memory, ended with a banger cover of Burning Love by Elvis. Bad Tangerines, the a capella group was next, and boy were they great as well! I loved the song with Libby Berg on lead vocals. The Gogs followed with some great songs and some funny stories too.
Emcees Dave Otto and Steve Grubish entertained the crowd with some classic jokes and even stated some facts about the current situation of some families in Steele County. They then handed the mic off to Dom before Mile 5 came on. Dom exclaimed his appreciation for the community and why the need for this is so important.
Dom shares a story about a recent situation with a family that needed some extra help. "He says to me, I never thought I would be the person who needed help. I never thought I would be the person to have to come in. We don't want to be here, but we need you."
Dom continues to explain about the husband and wife who needed some extra help because the wife was about to have surgery and they knew how much the out-of-pocket cost needed to be. The husband shared how he was picking up extra shifts, they were cutting back money in areas, but they needed about 6 weeks of help for food in order for them to pay for the life-saving surgery.
"The stories we are hearing every day are just like that," Dom exclaims.
"We're seeing people who have not seen us in two or three years, come back. This is a growing need, and that can sound daunting, but I am not afraid of this challenge," continues Dom. "It is because of you. It is because of the support of this community and what you are doing to create change through your generosity, your financial gifts, food donations, and gifts of time with volunteers."
"Thank you for changing the lives of the people all around you in Steele County and making me proud to be a leader of this organization, and you all have our backs. So, thank you."
With that, Mile 5 ended the night on a high note with some great covers! Also, it was incredibly cool and funny to hear that Mile 5 has been performing at the Hometown Sample before all members had a driver's license! And now some of them are married and one even became a dad!
Of course, this event is to help Community Pathways kick off the March Foodshare Campaign and so we anticipatedly waited to see what the total would be. Steve shared that the first night ended with a grand total of $12,000 from all the contributions made.
Wow! And that was just the first night!
After the shows on Saturday and Sunday, Community Pathways shared on Facebook what the community raised in total:
"What a weekend.
The musicians had a goal to raise $29K, Executive Director Dom Korbel hoped they might hit $30K and we were all blown away.
We raised just over $32K to fight food insecurity here in Steele County!
This community is amazing."
While the Hometown Sampler won't be back till next March, the month has only just begun for Community Pathways.
Visit their website, Facebook, and of course, the new building on 155 Oakdale Street if you have any questions or want to donate time, money, food, or of course just to talk with the wonderful people there!
As someone who has been welcomed in by this community, I am constantly just amazed and in awe of how supportive and dedicated this community is to helping each other. Thank you Steele County!
Minnesota Goodwill Stores Will NOT Accept These 13 Items
While there is an appreciation for donating items, there are actually many things Goodwill will not accept, especially in Minnesota. So here is a list of all the things that Minnesota Goodwill's will not accept.