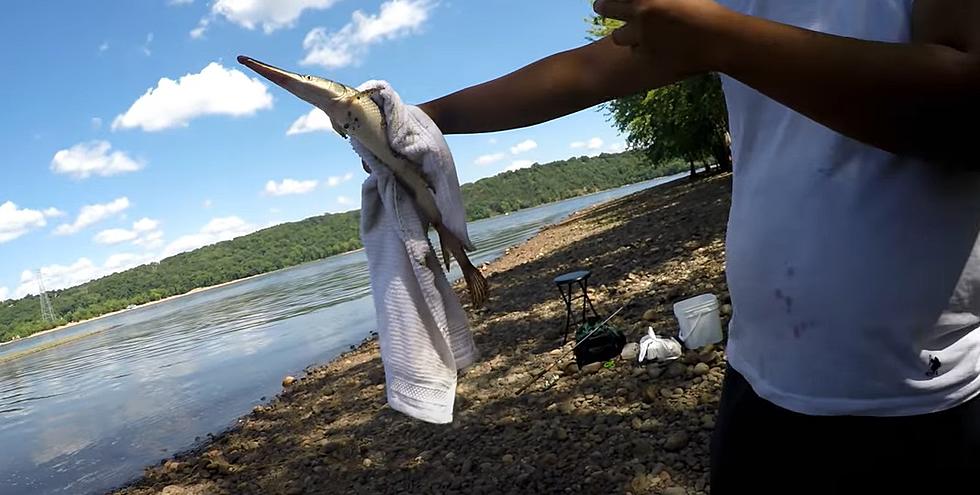 Possession Limit On Prehistoric Gar Fish Among Changes To 2023 Minnesota Fishing Regulations
YouTube
The Minnesota Department of Natural Resources has released its 2023 fishing regulations book and there are important changes anglers, spearers, and bowfishers will want to be aware of.
The first of which involves catching gar in any Minnesota body of water. Gar, the toothy, prehistoric fish native to Minnesota waters, is a 'rough species' fish and the DNR wants to better manage them.
Therefore, beginning Wednesday, March 1, a new gar possession limit will be in effect on all Minnesota inland and border waters. Spearers, anglers, and bowfishers will be allowed to keep up to 10 gar.
The DNR notes that this new limit applies to longnose and shortnose gar, which previously could be kept in unlimited numbers.
The gar regulation change is part of a larger effort to sustainably manage not only gar, but other native fish including buffalo, sucker, freshwater drum, bowfin, goldeye, and bullhead because they are critical contributors to aquatic ecosystems.
The gar limit was established after 2021 legislation requiring the Minnesota Department of Natural Resources to determine and set a limit for that species.
"It's a first step toward a more proactive and conservative approach to managing these native 'rough fish' species," said Shannon Fisher, fisheries monitoring and regulations manager. "We value these native fish. They are important elements of healthy rivers and lakes, and yet we don't know a ton about them."
The DNR admittedly has less information about gar compared to common fish species like walleye, pike, or bass, therefore research is underway to track their populations, with initial results expected in the latter part of 2024.
Additionally, the DNR will form a new work group with members of conservation organizations, members of the bowfishing community, and interested stakeholders to identify conservation strategies for other native rough fish.
They want to correct the misconception that fish like gar are predator fish that create competition for fish like walleye. The DNR says they now know that just isn't the case. As the video shows, catching a gar is a unique experience.
Another change to Minnesota fishing regulations for 2023 includes opening the Vermillion River in Dakota County to a catch-and-release season that mirrors the season in place for southeastern Minnesota, which allows catch-and-release trout fishing from January 1 each year to the mid-April stream trout season opener.
Additionally, the brown trout catch-and-release-only regulation applies to the entire Vermillion River starting March 1.
New and modified regulations will also be in effect for a variety of other waters. Anglers are advised to check the regulations book for regulation details for these waters, listed here alphabetized by county:
Big Sandy Lake and connected waters, Aitkin County
A portion of the upper Turtle River chain of lakes, Beltrami County
Three Island and Turtle River lakes, Beltrami County
Fox Lake, Beltrami County
Caribou Lake, Itasca County
Round Lake, Itasca County
Otter Tail Lake, Otter Tail County
West Battle Lake, Otter Tail County
Cloquet and Otter rivers of Island Lake Reservoir, St. Louis County
10 Mishaps That Happen On A MN Fishing Opener
The Minnesota Fishing Opener is basically a state holiday. As we head out on the lakes for those elusive walleye and aggressive Northern Pike, let's take a moment to laugh about some of the common mishaps that we've all experienced on that first day on the water.
States with the most registered hunters
Stacker
analyzed data from the U.S. Fish and Wildlife Service to determine which states have the most registered hunters. Read on to see how your state ranks on Stacker's list.