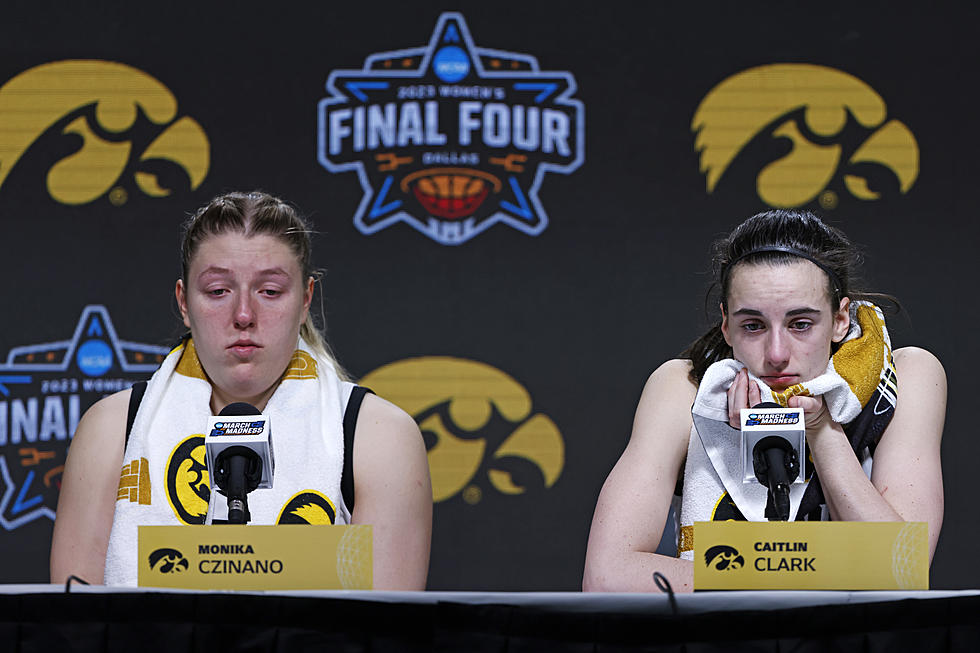 The Hawkeyes Weren't Robbed…But Basketball Fans Were [OPINION]
Getty Images
Let's get this fact out of the way. LSU was the better team on Sunday. Their 102-85 victory over our beloved Iowa Hawkeyes happened for a variety of reasons including amazing three-point shooting and dominance on the boards. But basketball fans won't be talking about that around the water cooler today. They'll be talking about a game marred by some of the worst and most inconsistent reffing ever. In a spotlight game aimed at showing the beauty of women's basketball, we instead got a game with its brightest stars sitting on the bench.
As many Iowa fans will no doubt do some ref-blaming today, the Iowa women's basketball team would have none of it after yesterday's game. SI.com reports that assistant coach Jan Jensen summed up many people's thoughts on the refs.
That's not why we lost it. LSU is a great team. It just … I wish we would have had more of a flow game both ways. The whistles, the stops—you didn't get to see what I think our team can do.
The way games have been called this year was not a new topic in the Final Four. SI reports that South Carolina coach Dawn Staley complained much of the season about a perceived double standard against star center Aliyah Boston. Geno Auriemma complained about the physicality of the game, saying his players got beat up inside against more physical teams. But there were also some very strange calls during the Iowa/LSU game. Perhaps none stranger than Caitlin Clark's technical foul.
Clark said after the game that she didn't say anything to the ref and simply tossed the ball back to where an official would have been standing. She was called for the technical, which also was her fourth personal foul. SI reports that ref Lisa Jones stated after the game that Iowa had already received a warning for delay of game, and Clark got T'd up because she didn't immediately get the ball back to an official. Announcers called the call ridiculous. Iowa had clawed back to within 9 points at the time. Who knows what happens if Clark doesn't have to play pretend defense with four fouls the rest of the way?
But that wasn't the real shame of yesterday. The real shame was that the women's game, more popular than ever before, deserved better. Both Iowa and LSU saw their star players saddled with foul trouble, sitting on the bench. The casual fan tuning in to see what all the fuss was about didn't last long yesterday. While yesterday might have been a setback, the women's game is in great hands. Caitlin Clark isn't going anywhere. Little girls will still have a hero to look up to, making them believe that anything is possible.
You can help welcome the Iowa women's team home later today at the Iowa River Landing in Coralville. The team is now scheduled to return to Iowa City at around 3:15 p.m. Fans are being encouraged to park for free in the South Lot, which is traditionally used for Fry Fest parking. Here is a map of where fans can park.
Let's gather and welcome home this Iowa team for the ages! They have made us all 'Iowa Proud!'
Best Photos From A Magical Weekend at Carver-Hawkeye Arena
On Saturday and Sunday, February 25 and 26, 2023, the Iowa men's and women's basketball teams pulled off last-second victories against Michigan State and Indiana.
On Saturday, the men became just the 4th team in college basketball history to overcome an 11-point deficit with less than 1 minute to play.
On Sunday, the #6 Iowa women defeated #2 Indiana on a 3-point shot at the buzzer by Caitlin Clark.
The ABCs of Iowa
I know Iowa may not be the most popular state to visit, but we still have plenty to offer! Using countless article, websites, lists, and maps, we put together a list of some of Iowa's best and biggest events, venues, and attractions using every letter of the alphabet (which wasn't easy)! Unfortunately, we couldn't include EVERY awesome place in the state (there aren't enough letters!), but here are our Iowa ABCs: